In today's world, having a sustainable on-line presence is one of the key requirements for doing business. It is where information is disseminated; new clients are acquired; and relationships are maintained. Pretty much everyone has a website. But how much time and effort should you put into maintaining your online assets and what can you do the help your current clients engage with you and also attract new clients? In this special series we take a look at the on-line environment. We ask advisers how engaged they are, and what sort of things they do to best exploit the ubiquitous, yet under-utilised online space that is the internet.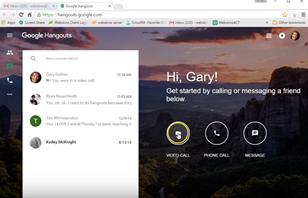 Taking advantage on all the internet has to offer means more than just having a website for your business. For example, you've probably face-timed your friends and relatives on your phone, but have you thought about substituting an in-person client meeting for one that takes place on-line. There is a myriad of video-conferencing tools that are available including Skype, Zoom, Google Hangouts and Microsoft teams. Many of these will let you share your screens if you need to go over documents just as you would in person. in these times on "social-distancing" this type of technology may play an important role in the way you conduct your business.
We asked Platinum adviser Tim Henry from Aspire Planning in Cheltenham in Victoria some questions on the value of an effective on-line presence, and what it takes to maintain it.
1. How important do you think an on-line presence is?
It is vital for any business to have a presence where their clients are.  That has been the case for hundreds of years!
Today's consumers spend a great deal of their time on-line, either on the web or social media.  I think I read somewhere that daily average social media use is now over 2 hours per day. The age of the client is also no longer a differentiator, people of all ages are doing this.   
I went to a marketing forum last year that provided data on what a client did first when they were given a recommendation for an adviser.  This might even include a warm referral from a regular source.  More than 50% of potential clients would look at your website, 25% would look for another source of online validation (eg. Adviser Ratings) and the remaining 25% would make a call or email.
2. What sort of things have you done to create your on-line presence?
I met Tim Reid (Small Business Marketing Podcast) a couple of years ago and his "helpful marketing" philosophy really resonated.
There are a number of areas that we use for an online presence and its mainly focused on providing helpful information, rather than simply spruiking our own worth.  We post blog content weekly on our website and also distribute this via HTML email to our clients and also post via Facebook and Linkedin pages.
Last year we began collaborating with relevant locals' businesses and obtaining content from them that is valuable to our clients.  How to book travel, how to save money planning weekly food menu, how to stay active, plan for retirement etc. This has allowed us to promote these great local businesses but also increase our on-line reach to their clients too.
Also, video chats (posted to social and emailed to clients) about specific topics have been very popular with consumers and we now have a You Tube page to start housing this collection.
Adviser Ratings and the AFA's Your best interest databases are used extensively by prospective clients as a validation tool and I see these as critical.
3. How much time do you invest in on-line engagement?
We have built some good sources for content now, as well as writing some of our own.  We would spend 4-5 hours per week, minimum, both compiling and planning these.
4. Where do you see Adviser Ratings fitting into your on-line strategy?
Obviously, we use Adviser Ratings and did so from Day 1 – it's a wonderful tool for consumers to view advisers under a consistent system.  But also for advisers, to be able to showcase their proposition to potential clients and to invite sincere feedback from existing clients is very powerful.
We always ask whether new clients have validated us online and I would say that approx. 25%-30% of these have looked us up in Adviser Ratings before coming in to see us.  But my favourite part of Adviser Ratings is asking for honest feedback at the end of our client's initial engagement.  I love how people open up and write how they feel the service has assisted them. No "marketing speak" could ever hope to compete with these honestly written pieces.
5. Why did you engage with Adviser Ratings?
I spent some of my previous career in the world of retail, as buyer of electronics for Myer, Good Guys and Aldi.  I knew how much consumers valued Choice magazine, an independent way obtain advice about products and services.  When Adviser Ratings Launched, I felt really confident that they had the ingredients to become that trusted source for consumers, and so its proven to be.
Adviser Ratings has been a wonderful tool for our business.  Obviously, we have worked at this, asking for feedback from our clients over many years. But even if you don't have a website as such, Adviser Ratings can give you that online presence quite easily, showcasing your business and the tools are so easy for clients to use as well.  When we have asked people why they chose us over other advisers on these sites – "because we had a photo".  Basic!  Just do it.
To see Platinum Adviser David Dall's online tips for advisers, click here
To see Platinum Adviser Steven Clarke's online tips for advisers, click here
Article by:
Adviser Ratings
Was this helpful content?
Let others know - share and vote-up