In today's world, having a sustainable on-line presence is one of the key requirements for doing business. It is where information is disseminated; new clients are acquired; and relationships are maintained. Pretty much everyone has a website. But how much time and effort should you put into maintaining your online assets and what can you do the help your current clients engage with you and also attract new clients? In this special series we take a look at the on-line environment. We ask advisers how engaged they are, and what sort of things they do to best exploit the ubiquitous, yet under-utilised online space that is the internet.
Taking advantage on all the internet has to offer means more than just having a website for your business. For example, you've probably face-timed your friends and relatives on your phone, but have you thought about substituting an in-person client meeting for one that takes place on-line. There is a myriad of video-conferencing tools that are available including Skype, Zoom, Google Hangouts and Microsoft teams. Many of these will let you share your screens if you need to go over documents just as you would in person. in these times on "social-distancing" this type of technology may play an important role in the way you conduct your business.
These thoughts were echoed, particularly regarding the older generation in a recent Professional Planner article where the director of aged care support provider Aged Care Steps, Assyat David said many of those who may have been previously reluctant to embrace technology will be forced to try new methods of staying in contact with not only their financial adviser, but family and friends.
"There will be a silver lining and a legacy as older people learn how to use online tools," David says. "Being able to dial in electronically makes a lot more sense of the other members of the family can also dial in with share screening on skype, zoom and all those things."
Not only would this development give advisers better access to their retiree clients, but increased adoption could eventually lead to a broader market base of retiree clients.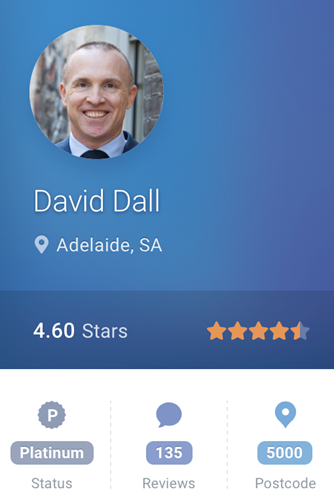 We asked Platinum adviser David Dall from Shaw and Partners in Adelaide some questions on the value of an effective on-line presence, and what it takes to maintain it.
How important do you think an on-line presence is?
An on-line presence is imperative.
Consumers in all areas of life are researching their service providers and goods on-line before they take the next step to contact that provider or supplier. 
Research generally indicates 85% of consumers research online before making purchasing decisions. 
Prospects want to learn about the products and services they buy before they talk to the sales. They do this through the web. 
They go on a journey of trust. Advisers need to be visible, locatable, contactable, and accessible via all communication mediums. The Advisers that can provide the on-line answers to the prospects questions which will be most trusted and, as a result, grow their business. 
Where do you see Adviser Ratings fitting into your on-line strategy?
Adviser Ratings is a key component of my on-line strategy – it puts my name and expertise in front of prospective clients. Prospects are looking for social proof through peer review to confirm what we propose are our benefits and competitive advantages. 
The internet provides a pressure-free environment for potential clients to assess the expertise and capabilities of a database of Financial Advisers in their geographical location. 
I like that prospective client can screen for various criteria and read the testimonials by my existing clients. Adviser Ratings will continue to grow and be at the forefront of the minds of Australians seeking a new Financial Adviser, we will ride the wave together.
Why did you engage with Adviser Ratings?
I consider Adviser Ratings to be the preeminent website where potential clients will go when seeking a Financial Adviser. First, prospective clients can conveniently screen their search by their geographical location. Then subsequently can filter their criteria by gender, size of investable assets, minimum years of Adviser experience, and the advice specialty that they require. It makes it easy for future clients to learn more about their potential choices.
What other things have you done to create your on-line presence?
I am currently investing in and upgrade to my digital assets, boosting my personal online brand. Moving forward, I will be using social media and content marketing to build and grow trust with prospects and provide assurity to my clients. I'm integrating Adviser Ratings as much as possible as it provides fair feedback to my network. 
As well as Adviser Ratings, I have;
-a LinkedIn profile, but my Connections there are generally industry contacts. I do not personally use LinkedIn when I am looking for a service provider, so I am sceptical of the benefits of lifting my exposure and brand to potential clients via LI. Going forward, though, LinkedIn will become a valuable way to promote content to potential prospects.
-I am listed under the FPA site under 'Find-a-Planner'; however, the searchability has limitations providing just the 'bare bones' – consumers have the ability to screen by geographical location, Advisers' gender, and Advisers' CFP-status.
-My firm has a website promoting the business Shaw and Partners, and also has a significant social media presence showcasing our community sponsorships, and market insights. This website is more focussed on the brand 'Shaw and Partners' than the brand 'David Dall'. All inquiries via this website go to our head office in Sydney. 
How much time do you invest in on-line engagement?
I'm making a dedicated effort to improve my education in this space. It's directly rewarding. The more time invested in the on-line space, the greater the potential and power of digital. Going forward it's only going to get bigger and more critical. 
To see Platinum Adviser Steven Clarke's online tips for advisers, click here
To see Platinum Adviser Tim Henry's online tips for advisers, click here
Article by:
Adviser Ratings
Was this helpful content?
Let others know - share and vote-up