In today's world, having a sustainable on-line presence is one of the key requirements for doing business. It is where information is disseminated; new clients are acquired; and relationships are maintained. Pretty much everyone has a website. But how much time and effort should you put into maintaining your online assets and what can you do the help your current clients engage with you and also attract new clients? In this special series we take a look at the on-line environment. We ask advisers how engaged they are, and what sort of things they do to best exploit the ubiquitous, yet under-utilised online space that is the internet.
Taking advantage on all the internet has to offer means more than just having a website for your business. For example, you've probably face-timed your friends and relatives on your phone, but have you thought about substituting an in-person client meeting for one that takes place on-line. There is a myriad of video-conferencing tools that are available including Skype, Zoom, Google Hangouts and Microsoft teams. Many of these will let you share your screens if you need to go over documents just as you would in person. in these times on "social-distancing" this type of technology may play an important role in the way you conduct your business
These thoughts were echoed, particularly regarding the older generation in a recent Professional Planner article where the director of aged care support provider Aged Care Steps, Assyat David said many of those who may have been previously reluctant to embrace technology will be forced to try new methods of staying in contact with not only their financial adviser, but family and friends.
"There will be a silver lining and a legacy as older people learn how to use online tools," David says. "Being able to dial in electronically makes a lot more sense of the other members of the family can also dial in with share screening on skype, zoom and all those things."
Not only would this development give advisers better access to their retiree clients, but increased adoption could eventually lead to a broader market base of retiree clients.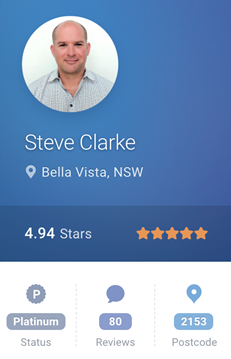 We asked Platinum adviser Steven Clarke from Constellation Financial Planning in Bella Vista in NSW some questions on the value of an effective on-line presence, and what it takes to maintain it.
How important do you think an on-line presence is?
Establishing and growing an online presence is as essential in 2020 as yellow pages advertising was in the 1990s. Thirty years ago having a large prominent advertisement in the yellow pages conveyed that you were an established business that people could trust. Now that trust and credibility is developed and communicated through online channels.
What sort of things have you done to create your on-line presence?
We've tried a few things over the years, but we found it difficult to put together a comprehensive digital marketing strategy when we're concentrating on serving our clients. So more recently we've chosen to work with a digital agency, Focus on Digital. They have worked with us to put together an online strategy for growing awareness of our brand and establishing trust in our market. We've made sure our website has strong SEO and solid user experience and now we're implementing more outreach and looking at ways to improve our customer value journey. Advisor Ratings has been great for lead generation - and now we have a repeatable process for turning those leads into loyal clients.
How much time do you invest in on-line engagement?
I usually spend about 4 hours per week responding and replying. Focus on Digital have been helping us develop our content marketing strategy which is steadily increasing engagement.
Where do you see Adviser Ratings fitting into your on-line strategy?
Adviser Ratings have been a fantastic source of leads for us. Establishing our profile on this platform has helped build our brand credibility and take away some of the fear prospective clients feel before they pick up the phone.
Why did you engage with Adviser Ratings?
We have been using Advisor Rating for 3-4 years now and we love the platform. Originally, we started because of the growing popularity of online reviews. Really happy that we did because it's now become an integral part of our marketing strategy. Clients regularly state the reviews have directed them to our company.
To see Platinum Adviser David Dall's online tips for advisers, click here
To see Platinum Adviser Tim Henry's online tips for advisers, click here
Article by:
Adviser Ratings
Was this helpful content?
Let others know - share and vote-up