As the financial advice workforce contracts, one of the many consequences is likely to be the uneven distribution of advisers geographically.
By 2023, when the bulk of education standards have taken full effect, we expect adviser numbers across Australia to total little more than 13,000, compared to 20,700 at the start of this year. Clearly, this trend will lead to unmet demand from both clients and prospective clients across the country.
However, if current departure numbers are anything to go by, we are likely to see a situation where there is rising and unmet demand for advice in certain geographical areas and lower relative demand – or historically similar demand - in others.
This has always been the case in some sense, as there's a tendency in any workforce to cluster in areas with the right mix of market appetite and price dynamics. However, it's likely to be more pronounced when the industry loses more than a third of its advisers.
Last week, we wrote about growing markets in regional Australia that have lost the highest proportion of their advisers. This week, our analysis is focused on inner-city markets, which have lost a disproportionate number of advisers. Some are growing at a moderate pace.
The capital city regions that have lost more than 20% of advisers in two years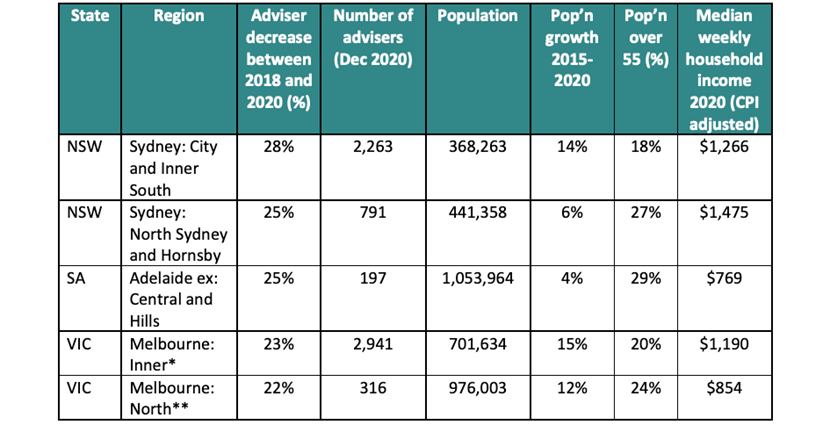 Source: AR Data; ABS, 2020.
*Suburbs within a 10km radius of the CBD.    ** Includes both east and west sides of Melbourne's north.
As the table above shows, Sydney's City and Inner South region has lost more than a quarter (28 per cent) of its adviser base in the two years to the end of 2020. At the end of 2018, there were 3136 advisers in the region and there are now 2263. The district takes in the CBD, as well as suburbs such as Chippendale, Glebe, Enmore and Newtown, and has a burgeoning population. However, the Australian Bureau of Statistics shows the median age of residents in the region is 33.
As a point of contrast, the Sutherland region has lost five per cent of its advisers in the same two year period (2018-2020), albeit from a much lower base. It has lost ten advisers in two years, with the total number falling to 207.
Keeping on top of these trends may help new and specialising advisers to position their businesses where they are likely to have a cohort of pre-retiree and retiree clients.  
How other states are faring: highest adviser losses in remaining capitals


* Includes both east and west sides of Perth's north.
Article by:
Adviser Ratings
Was this helpful content?
Let others know - share and vote-up