One of the key surprises that has come out of the survey of more than 3,000+ consumers is that superannuation is no longer considered a snore by the millennial generation - this was no doubt driven by their ability to crack open the vault via Early Access to Super that we only get access to when we hit retirement.
The Early Access to Super regime only amplified the trend – unlike the reddit community looking for the next GameStop, there is a more sensible generation of millennials that have created an online social movement called "FIRE" – Financially Independent and Retire Early. At their core, followers of the movement are aggressive savers and view the movement as a lifestyle.
Whilst our survey conducted for the upcoming landscape report was spread across every-day Australians, it has highlighted a definite trend that the younger generation cares about their money more than ever before – and they are seeking technology solutions to their problems.
Last week, in our column on the Robinhood phenomenon we identified that most Australians (at least to age 55) have a lack of knowledge or awareness such technology exists – not a lack of interest.
If we extrapolate our survey results of the 19.8M Australians over the age of 18, 11.4M are open to using technology to service their money management needs. 8.9M or 70% of the Australians under 55 want technology to help them to manage money more effectively.
The key areas where Australians are seeking help include:
- Cashflow and Budgeting
- Savings and Investments
Whilst Graph 1 shows slightly more interest in technology that solves the "here and now" like share trading and banking, close to 40% or 2M Australians under the age of 35 would use technology to manage and keep track of their superannuation.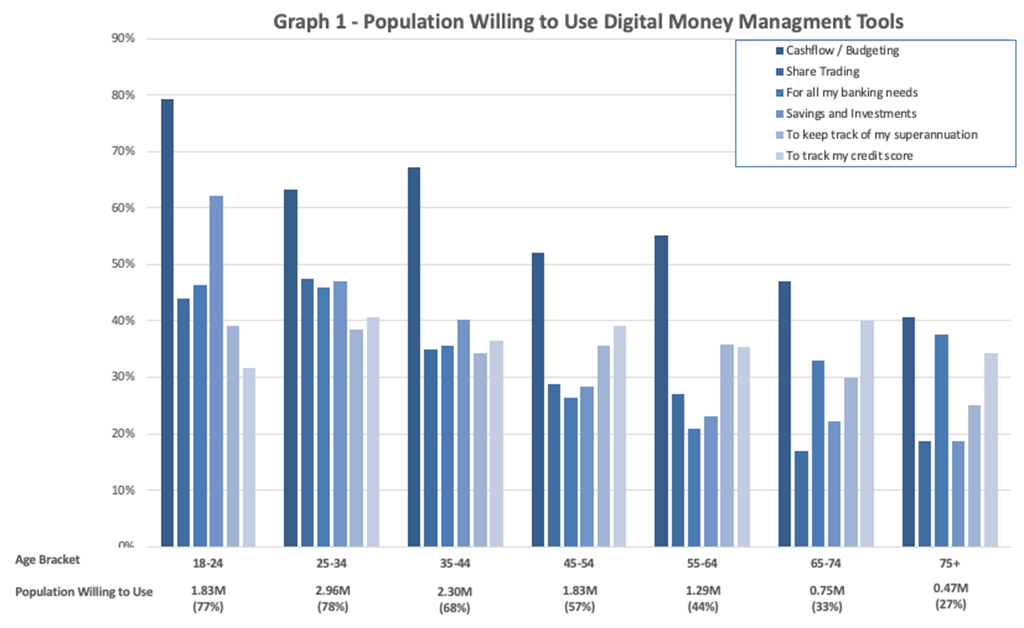 As the advice industry moves into "survive and adapt" mode, it throws up amazing opportunities for both advice practices and technology solutions to come together.
The pandemic has opened up a pandora's box of opportunity. The younger generation now cares more about money than ever before. As wealth transfers from the older generation to the younger generation (via unlocking super, inheritance, gifting or support), it provides the ability for the simple (technology) and complex (face to face advice) to fill the void.
As we can see below, the solutions built/being built are synchronous with what the younger generation are seeking. In the same way, super funds are adapting to offering retirement and comprehensive advice solutions for their retiring members, this same adaptation now needs to play out amongst advisers – and there will be big winners (consumers and advisers) for those who take advantage of both this generational but also "new psychological" shift.
It is now time to partner up with technology solutions or offer technology solutions to the younger generation, who will ultimately become advised clients in years to come.
Article by:
Adviser Ratings
Was this helpful content?
Let others know - share and vote-up