The reputational crisis at the big end of town has driven many advisers to exit institutions in favour of privately-owned licensees.
In the past five years, the volume of advisers licensed by large entities has plummeted, as practising advisers either leave the industry altogether or move under the privately-owned model – either to bigger firms or boutiques.
In 2016, there were more than 14,000 advisers licensed in the diversified, industry super fund or not for profit, stockbroker or bank sector; now there are just over 7500.
While a significant proportion of those losses are due to industry departures, the number of advisers operating under privately-owned licensees has lifted from just over 10,000 to 11,500.
Self-licensing: friend or foe?
Despite the numerous challenges, the self-licensing model continues to hold appeal for a significant proportion of the market.  
Adviser Ratings analysis shows that just under 20 per cent of practices are self-licensed.
Given the high volume of small licensees relative to the industry juggernauts, licensees with one practice now make up about 80 per cent of the market (1670 licensees in total).
Practice distribution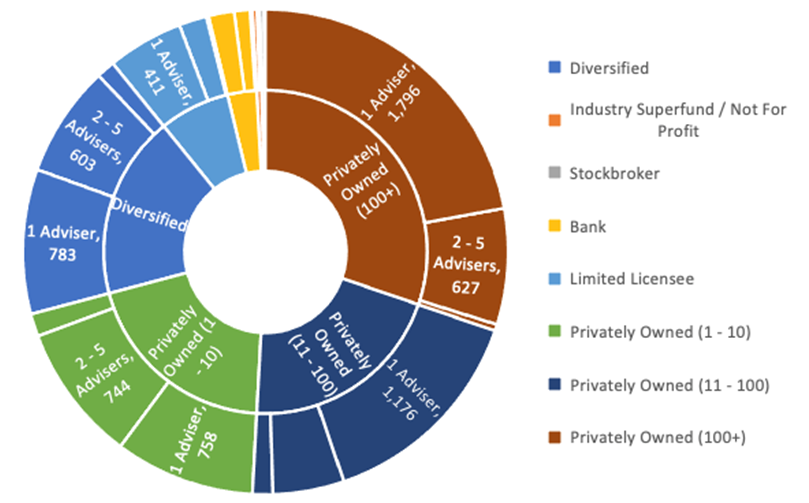 Source: AR Data, 2020.
The pros and cons of self-licensing
As an adviser, operating under your own AFSL or joining a self-licensed boutique may tick a number of boxes. Here are a few of the major advantages:
 - You are unshackled from your dealer group's obligations and product list;
 - You can dictate the direction of your business;
 - You can market yourself as an independent entity, where the client's best interests come first.
However, self-licensing also has a number of downsides. Some of the recurring ones are:
 - You don't have the resources or backing of a big licensee;
 - You're responsible for the initial and subsequent licensing costs;
 - You take on all of the compliance obligations;
 - PI insurance is costly and difficult to obtain.
Why going solo is so difficult
While there is still a strong appetite from advisers to go it alone, the reality of running a small, self-licensed practice means that many don't make it beyond the five-year mark. Our analysis shows often AFSLs are relinquished in favour of larger, privately-owned options.
How long ceased licensees operated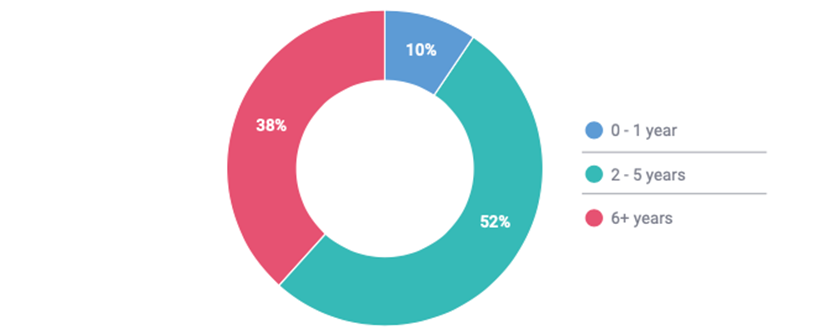 Source: Adviser Ratings Financial Advice Landscape Report 2020
As the chart below shows, the past year has seen licensee discontinuations continue to outstrip new formations.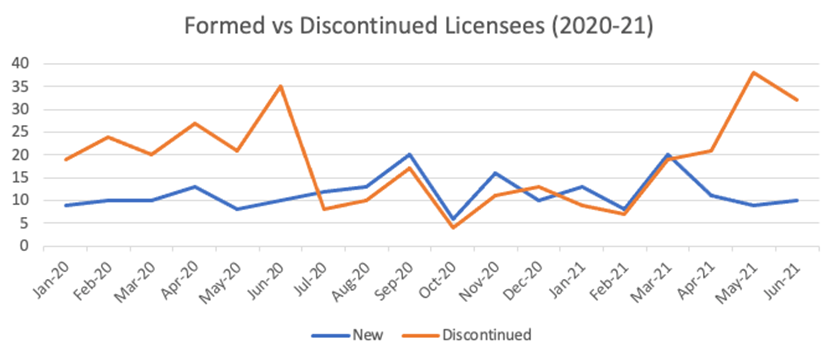 In the past, we've also reported the AFS register is also made up of hundreds of "zombies" – licences that are still listed on the AFS register but have been removed from the ASIC Financial Adviser Register. Many of these were created in the past few years.
Despite looking promising in theory, the licensee model has long been criticised for being economically untenable for many. On a smaller scale, running costs, coupled with PI insurance and compliance, make it difficult for many to stay afloat.
The second element working against self-licensed boutiques is the risk management. Balancing reporting obligations and general compliance with business growth is a difficult ask.
Despite this, there is still demand for self-licensing. Third-party providers are coming to the table with compliance and paraplanning solutions to free up a bit of time, but more change is needed to reduce the model's cost burden.
Article by:
Adviser Ratings
Was this helpful content?
Let others know - share and vote-up