New analysis from Adviser Ratings shows that authorisations of new advisers have flat lined in the first two months of the year. The results follow the massive influx of new adviser authorisations at the end of last year, as advisers scrambled to beat the new legislative deadline for enhanced qualifications on January 1st.
The analysis of three months' worth of adviser movement data (Dec 2018 – Feb 2019) shows that after more than 2,500 new advisers gained authorisation in December 2018, a grand total of only 4 new advisers were added to the industry in the first two months of this year.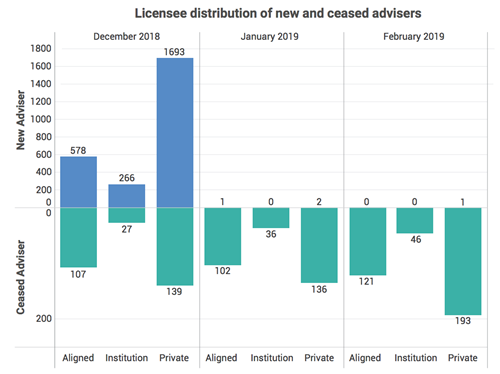 The data also confirms the theme of further growth in the privately owned licensee space, with the vast majority of new advisers (67%) preferring to join privately owned licensees, rather than institutionally owned or affiliated licensees at a ratio of two to one. In contrast, ceased adviser numbers have remained relatively consistent over the three-month period.
The second chart shows a comparison between the same period for a year earlier. Again, this illustrates the huge spike of new advisers in Dec 2018, but also the magnitude of the drop off for the January/February period. There were 237 new authorisations in Jan/Feb 2018, compared to 4 in the same period this year. It may be pertinent to note that although the ceased adviser numbers do not display the large differences seen in the new adviser numbers, they indicate that the number of ceased advisers this year is over 10% more than for the same period last year. This fact, and the almost total lack of new advisers entering means the industry has had a net loss of over 600 advisers since the start of the year – potentially further evidence of an acceleration of advisers leaving the industry.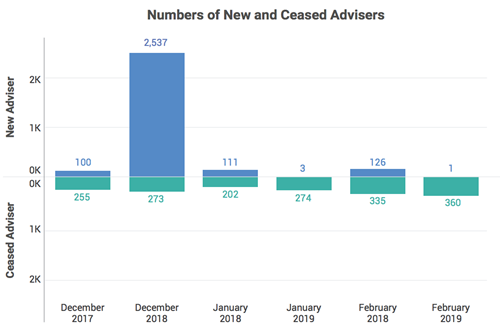 Such a substantial swell in adviser numbers leads us to question where all these advisers are going. Our third chart shows those licensees that have grown the most during this period. We have identified the top 10 fastest growing individual licensees measured by the net gain in the number of financial advisers.
The SMSF Advisers Network showed a significant increase in the number of advisers (216 advisers). However, such growth does not come without regulatory scrutiny. On the 4th of April 2019, ASIC imposed additional licence conditions on SMSF Advisers Network to ensure that advice provided by its representatives was in the best interests of clients*.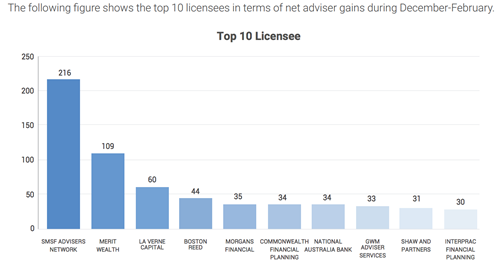 To contextualise this growth, we show these top 10 fastest growing licensees with their total number of advisers at the end of February. Interestingly, half of the top 10 are privately-owned licensees and they hold the top four positions (SMSF Adviser Network, Merit Wealth, La Verne Capital and Boston Reed). The largest percentage growth by far were La Verne Capital, who grew by over 400% in adding 60 advisers to now have 77 in total, and Boston Reed who grew at 275% with 44 additional advisers, for a total of 56.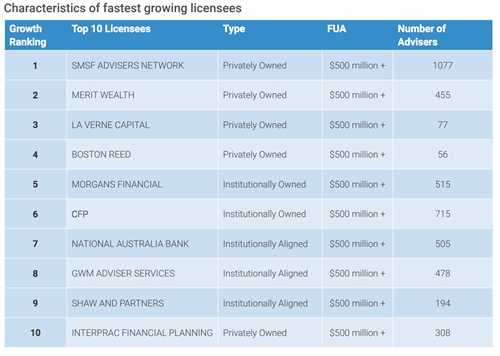 That total adviser numbers for the top ten licensees accounted for just 626 advisers out of more than 2,500 new authorisations is further evidence of the fragmentation of the licensee market. This figure represents less than a quarter of new advisers, meaning that over 75% - or nearly 2000 advisers have been added to a myriad of other licensee groups.
 * See https://asic.gov.au/about-asic/news-centre/find-a-media-release/2019-releases/19-077mr-asic-imposes-additionallicence-conditions-on-smsf-advisers-network/
Adviser Ratings will continue to bring you more insightful analysis of adviser movements and other industry trends. For more information about our insights contact mark@adviserratings.com.au
Article by:
Adviser Ratings
Was this helpful content?
Let others know - share and vote-up