The end of the year saw a massive increase in the number of advisers joining licensees, as they scrambled to beat the Financial Adviser Standards and Ethics Authority (FASEA) education requirement deadline that applies to new advisers entering the industry from January 1 this year. The spike saw more than half of the entire years' worth of new adviser authorisations come in November and December. While 8,883 new advisers jumped on board in 2018, nearly 40% were registered in December alone. More than half of this acceleration in numbers was absorbed by just 50 licensees.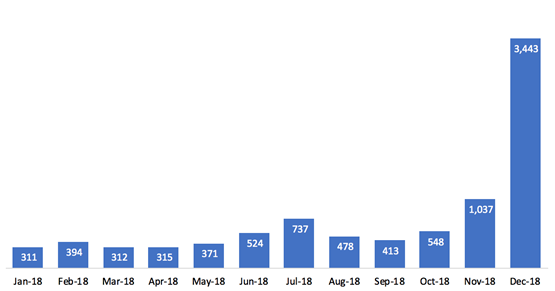 This chart shows the numbers of new advisers taken on by licensees for each month of 2018, and the massive increase in numbers at the end of the year.
New regulatory requirements came into play on January 1st this year that stipulate new advisers have to have completed a bachelor or higher degree, or equivalent qualification, approved by the standards body. Existing advisers (those registered prior to January 1, will still have to achieve the qualifications, but have a further 5 years – till January 1, 2024, to meet the standards.
Whilst a total of 8,843 new advisers joined in 2018, overcoming the initial regulatory hurdle, the rush for the exit is already happening with 6,014 advisers leaving the industry in the last 12 months (close to 25% of the 25,000 that were operating at the start of the year). This left a net increase of 2,869, meaning there are about 10% more advisers now, than at the same time last year.
Adviser Ratings analysis of adviser movement data showed that 4,480 new advisers joined licensees in November and December. This included a rush by accountants to join the two specialist accounting licensees, the SMSF adviser network and Merit Wealth who took on an additional 361 advisers between them, growing the total number of advisers they license 23% and 25% respectively, in December alone.
Other licensees who took on large numbers of adviser in December were Commonwealth Financial Planning (84 Advisers), NAB (70), ANZ (66), La Verne Capital (61) and GWM (58).
Meanwhile, FASEA has released its final FPS001 Education Pathways Policy, confirming the maximum requirements for new entrants.
The announcement states that under the policy the maximum requirement for a new entrant will be an approved bachelor degree of 24 subjects (units) and for an existing adviser will be a graduate diploma of 8 subjects. Degrees include single units of study with approximately 120 hours of learning required, as per the AQF (eg. 8 course Graduate Diploma and 24 course Degree).
According to FASEA, the amount of education an adviser will be required to undertake will depend on the amount of education they already have. We would recommend that any advisers wanting to find out what action they have to take to achieve the new standards should start by taking a look at the Pathways document.
To see the 18 page FASEA Education Pathways Policy document, click here
Article by:
Adviser Ratings
Was this helpful content?
Let others know - share and vote-up