Adviser Ratings has just released one of the most comprehensive studies available on the financial advice landscape in Australia in recent times. The report projects that around half of all advisers currently practicing will exit the industry in the next 5 years. As a result of this adviser exit, it is estimated that management of around $900 Billion worth of client funds will be overseen by a new adviser during that time. 5 years might seem like a long time, but if you are thinking of jumping into a relationship with an adviser,or already have a long term plan with your adviser and your relationship with your current adviser is important to you (and we know in most cases it is), it might be worthwhile having a chat with your adviser or intended adviser about their plans for the medium term.
Does Your Adviser Need To Get Qualified?
If you haven't heard, one of the biggest reforms for the industry will involve the introduction of education and qualification standards that every practising adviser must adhere to. These changes are part of the drive to increase standards and professionalism in financial advice industry.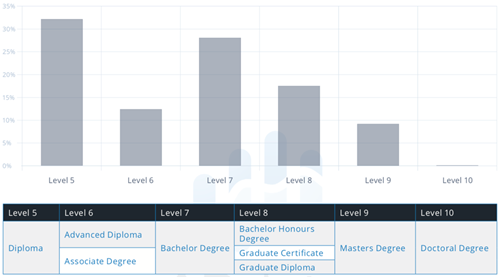 Fig. 1 Percentage of Advisers With Highest AQF Qualification Level Shown
While all new advisers entering the industry will have to have a relevant bachelor's degree (Australian Qualification Framework (AQF) – Level 7) from January 1, 2019 (just 7 months away), all existing advisers will have to meet the same requirement by Jan 1, 2024. Other factors that will impact adviser numbers include the Future of Financial Advice (FOFA) changes that have changes the way advisers gets paid, in many cases reducing their profitability and the current Royal Commission, the full implications of which are yet to play out.
Up To 50% May Exit The Industry Within 5 Years
In summary, 19% of the current market (advisers) is at direct risk of exiting, with this number increasing to 35-40% when factoring in FASEA requirements. The 35-40% figure is also a conservative estimate, and could potentially reach 50%, with many advisers with over 15 years of industry experience holding qualifications that are below the degree requirement.
Adviser Ratings has spent a good part of 2018 evaluating the winners and losers that will come out of the regulatory changes from FOFA to FASEA, enforcement of education standards, nascent technology and adviser and consumer trends. When the UK went through similar structural changes based around the UK government's Retail Distribution Review (RDR), adviser numbers dropped from 40k to 30k in 4 years.
Fig. 2 Predicted Total Adviser Number Changes In The Next 5 Years
We will see something similar in Australia, a net decrease of 6k, with 14k existing advisers leaving the market (partly offset by new graduates and accountants entering the industry)
The report used information gathered from survey responses from over 1100 advisers, as well as looking at historical adviser movement data. We used this data and analysed current trends by going through adviser demographics, ranging from ages, experience and current qualification levels as well as overlaying this with adviser sentiment around selling their practices.
Right now, there is no doubt the advice industry is in a transformative phase. The changes taking place will not necessarily impact everybody who receives financial advice, but if you are a current client of a financial adviser or thinking about getting advice in the near future, you might be affected. If you want further clarity on this topic, it won't hurt to ask a question or two during your next chat with your adviser.
Was this helpful content?
Let others know - share and vote-up