If you put stock in the banks' own measures of customer satisfaction, a Royal Commission might be  surplus to requirements. But stop people in the streets and odds-on, most will think a Royal Commission will uncover even more malfeasance in the financial services sector.
This conflict might be resolved by reframing the question and asking: "just what is it, beyond the sentiment the 'banks are bastards', which needs fixing?" I'd wager if there was a multiple choice answer, which included 'changing the culture' or 'changing some technical requirements', most people would opt for the former.
And given many commentators and experts seem to focus on, and blame 'the culture' in banking, it seems fair to ask if a Royal Commission is the best way to fix it.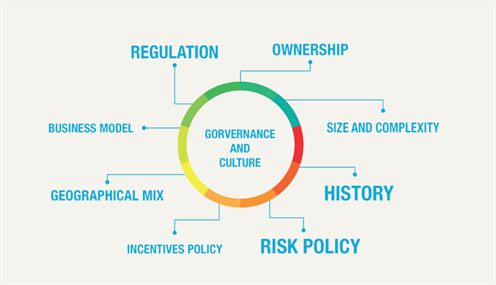 Graph from Worldfinancialreview: The diagram above presents a framework to explore the drivers of a bank's culture, whilst retaining the important link with governance. Regulation is included here not in its capacity as rule setter, but as a potential influence on culture.
The people seem to trust former RBA chief Bernie Fraser (if the number of advertisements he fronts is any indication) and on Wednesday, on ABC Radio, he doubted the wisdom of any commission, given the time in years it would take to see any recommendations implemented, and given the existence of regulators such as ASIC, to drive change more quickly and efficiently. He said (as many would acknowledge) the problems are well-known and he sees it as the 'maltreatment' of customers due to a breakdown in governance.
Customers, he says, are rated a distant third to the interests of shareholders - and the management and the boards of the banks are either responsible or negligent. He argues a few independently-minded people (perhaps himself?) charged with working with the regulators and stakeholders could drive more change more quickly. Properly explained, this approach might be far more attractive to consumers than the protracted and expensive showbiz of a Royal Commission.
Yet the demands of party politics, and the interests of some in the media who delight in the conveyor-belt of news produced by such inquiries, might yet clamour louder.
by Christopher Zinn, Campaigns & Communications Director, Adviser Ratings
Article by:
by Christopher Zinn
Was this helpful content?
Let others know - share and vote-up