Financial advisors stand to benefit from the rapid innovations of the financial technology industry. Staying updated with financial technology is crucial as the younger Internet generations start to accumulate wealth and seek out advice on how to balance modern and traditional ways to manage and invest money.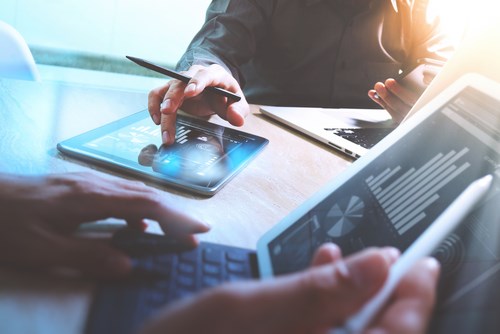 The automation offered by many new fintech solutions is often seen as a threat, but in many cases, it removes manual tasks from the day to day, giving the industry ample opportunities to focus on driving improvements and growth.
Robo-advisors are a great platform for financial planners to recommend to people they are unable to service and act as a bridge to full service financial advice .
The Financial Planning Association of Australia's (FPA) whitepaper, Mapping Fintech to the Financial Planning Process – Why Fintech is Not a Threat, places a big emphasis on the value of client engagement: 

'While process matters, engagement and the connection to the financial planner is a key element to the enhancement of the financial planning process as viewed from the lens of the client. For the fintech industry to present their most significant contribution in the area of engagement uplift presents the financial planner with an exceptional technological opportunity to engage clients.'
ASX's latest investor study shows that around 60% of all investors use some form of professional advice (from a financial planner, full-service stockbroker, accountant, or lawyer) to help guide their investment decisions. The research also showed that 24% of 18-24 year old investors used a financial planner in a 12-month period.
Apart from client engagement and the information they can access online, digital-savvy, high earning young professionals specifically seek out advice about how to balance modern fintech product offerings with traditional investment methods. Leveraging fintech is crucial to both engaging a younger audience and to the sustainability of the financial planning industry.
"Robo-advisors are a great tool for financial planners to bolster their value proposition for their clients. Implementing investment management using a robo-advisor frees up the planner to focus on the more human-centric aspects of advice such as financial coaching and trust planning, " says Clover Co-Founder and Co-CEO Sahil Kaura.
"Robo-advisors also help planners engage clients, whom they typically aren't able to service. Robo-advisors can serve as a bridge to build a relationship until the client has larger investable assets and requires more complex advice."
Young Australians are interested in investing in the future. They also want to ensure that their investments are in line with their values and this is shown in the demand for socially responsible investing options. More than 50% of Clover's customer base have chosen socially responsible investing options for their Clover portfolio.
The financial planning industry is in a prime position to take advantage of these fintech product offerings and engage younger clients they typically wouldn't be able to service.
At the end of the day, advancements in the financial planning industry aren't going to slow down. They are here to stay, and firms that accept and embrace this are in a prime position to focus on client engagement.
This article was first published on Clover.com.au
Article by:
Clover.com.au
Was this helpful content?
Let others know - share and vote-up