Women are still woefully under-represented in the financial advice industry, despite accounting for just over half the Australian population.
Unfortunately, the proportion of women in the industry has fallen in the last few years.
After making up just shy of 25 per cent of the advice market at the end of 2018, females now account for about 22 per cent of the industry. It's a worrying trend, given representation has grown in many other industries. In fact, data from the Australian Bureau of Statistics shows females account for almost half of the finance and insurance workforce. Why, then, do they make up only a fifth of the advice universe?
Figure 1 – Proportion of females in the advice industry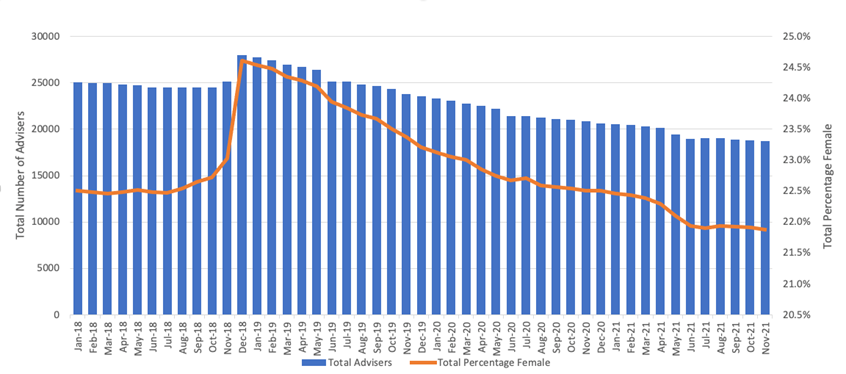 Source: ARdata
Adviser Ratings has put this question to a number of people and they have offered several answers. Perhaps financial advice is not being marketed to women as a rewarding career path that requires a diverse mix of skills. People have also expressed concerns about a perceived lack of flexibility and embedded culture problems.
We conducted some additional analysis in the hopes of shedding some light on potential problem areas.
A further look at the state of play  
On average, women have fewer clients and lower levels of funds under management (FUM), despite a greater proportion of women having higher qualifications and marginally higher quality scores. In fact, the median adviser quality score for women is an average four points higher than that for males. However, when we looked at the distribution of quality scores, they were very similar for both genders.
Figure 2 – Adviser quality score distribution by gender



Source: ARdata
There is evidence that a greater proportion of women who are already in the industry are planning to stick around, which may indicate the gender disparity is more of an industry marketing problem. Our flight score analysis – which determines the likelihood of an adviser leaving the industry – shows 2.8 per cent of female advisers are likely to exit, compared with 6.7 per cent of men.
Figure 3 – Flight score distribution by gender




Source: ARdata
There are a few reasons women may be here for the long haul. Firstly, the average female adviser is slightly more qualified in terms of AQF level, has more professional memberships and is more likely to have completed the FASEA exam, than her male counterpart. This indicates an investment in the professional journey. Female advisers are also less likely to be banned (and therefore less likely to leave the industry due to malfeasance). Among current advisers, the proportion of banned males is eight times that of females.
More gender differences
Our analysis indicates women have not spent as long in advice as men have, with an average four years' less experience. This may help explain why women have fewer clients and less FUM, but structural factors need to be considered, too.
In terms of the licensees women choose, larger privately-owned licensees appear to be the avenue of choice. That being said, other licensee types also seem to be popular with female advisers, with 13.8 per cent going to industry super funds/not-for-profits, banks, or limited licensees, compared with 9.1 per cent of males.
Another key difference relates to client bases. Female advisers tend to serve younger clients, with more than half the clients of an average female adviser representing the pre-retiree category, compared with 47 per cent for the average male adviser. In fact, the average female adviser has a greater proportion of clients in all the younger age cohorts.
While there are signs on the horizon that the proportion will slightly increase – with 26 per cent of provisional advisers female – it's clear more needs to be done to attract and retain women in financial advice.
Article by:
Adviser Ratings
Was this helpful content?
Let others know - share and vote-up