The following graphic shows some of the intelligence (in this case profile views) from the Adviser Ratings website.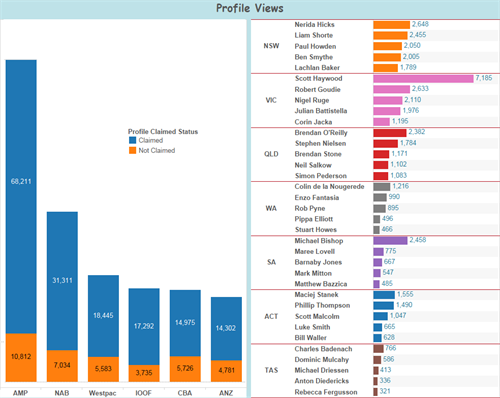 The left hand side shows the number of individual adviser profile page views for Advisers aligned with the big six corporate owners (obviously - claimed profiles generate more traffic).
The right hand side indicates individual advisers who have the greatest number of profile page views in each State and the ACT.
Our data suggest that those advisers with reviews on their profile will generate more traffic (ie potential clients) than those who have none. It also indicates advisers with the most profile views have higher numbers of reviews.
If you'd like to check out your own stats - login to your profile and have a look on your dashboard. In particular, the various leaderboards that are available there and the "Stats and Reports" tab, where you can see where you are placed across the entire industry for the various metrics that are available.
If you'd like to know more or have any questions, feel free to contact us and we'll do our best to answer your queries and share possible uses for all the data that's available.
Was this helpful content?
Let others know - share and vote-up