Clients want greater access to cryptocurrency through their adviser, but licensees are still keeping their powder dry due to regulatory and insurance concerns, a webinar has heard.
Adviser Ratings surveyed 62 of the top 300 licensees and found almost four-in-five would not allow crypto on approved product lists (APLs) because it is currently outside the scope of Australian Securities and Investments Commission regulation.
Concerns about PI insurance, consumer protection and knowledge are also keeping crypto off many licensees' APLs.
However, many licensees said they would reverse their position if these barriers were removed, Adviser Ratings research shows.
Chart 1 – Top Reasons for Licensees Disallowing Crypto on APL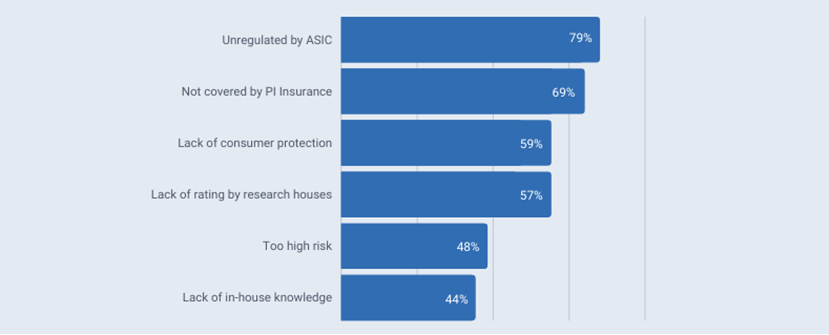 Source: ARdata
Addressing the barriers
According to the National Head of Business Development at Independent Reserve, Lee Eaton, work is being done to create more regulatory certainty.
Mr Eaton said one of the first milestones in this area was a bipartisan Senate report in October, which made 12 recommendations, primarily around consumer protection, custody and the licensing regime.
"The process is now at the point where people like Independent Reserve are working with solicitors and the government to draft up that initial legislation," he explained.
He said it was unclear when the legislation would reach Parliament, but he hoped it was "sooner", for the sake of both regulators and the industry.  
Meanwhile, Cosmos Asset Management chief executive Dan Annan said he's also working on accessibility.
"The first thing we're doing is really figuring out how to design products to give access in a financial product listed on an exchange," he said. "The next step is how do we make these available to advisers?"
Mr Annan said he has been consulting with research houses in Australia to help them understand the crypto products so they can be rated, to enable advisers to use them on their platforms.
"But it has to be two ways," he said. "In order to get a product available on an APL, there has to be some sort of demand from advisers."
Mr Annan encouraged advisers to try to work with product providers on finding solutions to these problems.
"Crypto – A Future Asset Class On Your APL" is a three-part webinar series exploring the risks and benefits of crypto, how to be prepared for clients and how advice can play a role in both a regulated and unregulated setting. Adviser Ratings' founder and managing director Angus Woods is joined by expert panelists, Dan Annan and Lee Eaton to bring this free crypto information series to Australian advisers.
You can watch the replay of the live session here. We'll send you a reminder to join the second session which will air in around three weeks (live streaming date to be confirmed).

Article by:
Adviser Ratings
Was this helpful content?
Let others know - share and vote-up