Australian taxpayers who earn above a certain income and who don't have an appropriate level of private hospital insurance, have to pay an extra tax called the Medicare Levy Surcharge.
In other words, it's a way to reduce the demand on the public Medicare system.
So how do you know if you need to pay the Medicare Levy Surcharge (MLS)?
The ATO uses a special definition of income, called income for MLS purposes, to decide if you need to pay the MLS, as well as the rate at which you will have to pay.
Generally speaking, if you're single and earning more than $90,000, or if you're a couple or family with an income over $180,000, you're liable to pay the surcharge if you don't hold the appropriate level of private hospital cover for the full financial year.
Depending on the income bracket that you fall under, you'll need to pay a surcharge of between 1% and 1.5% of your income. The higher your earnings, the higher your surcharge. The income thresholds and MLS for 2016-17 are: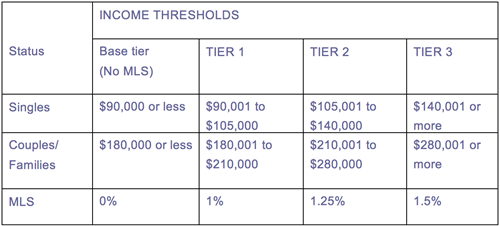 Plus, it's important to note that the threshold increases by $1,500 for each dependent child after the first. Single parents and couples with dependent children are also subject to the family thresholds.
Also keep in mind, this surcharge is different from the 2% Medicare levy most Australian taxpayers have to pay.
You can understand the exact specifications of the income thresholds and rates for the Medicare Levy Surcharge in deeper detail on the ATO website here.
How do you calculate the MLS?
What you need to pay as MLS depends on the number of days in the financial year that you did not have private hospital cover. So say you got the appropriate level of private health cover in December, you'll still need to pay the surcharge for the previous months when you didn't have the right level of hospital cover. That's why, to avoid paying MLS completely, it's a good idea to take out private hospital cover before July 1st.
How can you avoid paying the MLS?
If you're earning more than a specified amount, the way to avoid the MLS is to buy private hospital cover with a hospital excess of:
$500 or less for singles, per calendar year
$1,000 or less for couples/families, per calendar year
Choose your private health cover carefully
When you decide to take up private health cover, don't let the MLS be your only guiding factor. Health insurance plays an important role in protecting you against the unexpected, and you need to take care of yourself and your family.
The cover you choose impacts where you get treated, who treats you and the waiting periods for different conditions. So make sure you choose a cover that suits your individual or family needs.
A version of this article first appeared in the learning hub at Small Business First.
Article by:
Shubhda Khanna Nag
Was this helpful content?
Let others know - share and vote-up