All of this week, the CEOs of Australia's big banks have spent a few hours each, being questioned by a selection of our parliamentarians. The entire process has been highly politicised and critics have questioned its value. So, with the dust still to settle - what can we take away from the process?
Already, much has been written about what took place at the parliamentary inquiry fronted by the big bank CEO's - how effective it was, and what was the result. The CEO's of the 4 big banks fronted the inquiry this week for about 3 hours each. There were 10 members on the parliamentary committee, made up of 6 government members of parliament (MPs), 3 Labor MP's and 1 Green MP.
THE POLITICAL SETUP
Rather than holding a Royal Commission, which is being aggressively pushed by Labor and has much community support, the inquiry has been seen as one of the steps that the government has made, in an attempt to show it is doing something in lieu of community concerns. Action is required because of the negative perceptions about scandals, price gouging and cultural deficiencies regarding banks that are widespread in the community. This background has put the government in a bit of a funky position – they don't want to be seen as going soft on the banks, but equally did not want any revelations to be uncovered, that would strengthen Labors case for a Royal Commission. 
Equally – on the opposition side of politics, Labor didn't really want the inquiry to achieve much – so they could say that the inquiry was a waste of time and what we really need in a Royal Commission. Labor committee member Matt Thistlethwaite made this clear by pointing out that given the time allocated for questioning and the number of committee members asking questions, each MP could expect only 15 minutes per CEO to get answers to their concerns. If a well briefed CEO can't handle that, then they probably shouldn't be in their job.
THE OUTCOME
Relatively little new information was revealed by the inquiry. The chiefs were asked to explain how particular scandals came about and what had been done about it. All 4 CEOs offered apologies for past behavior and assured the committee that steps were being taken to improve.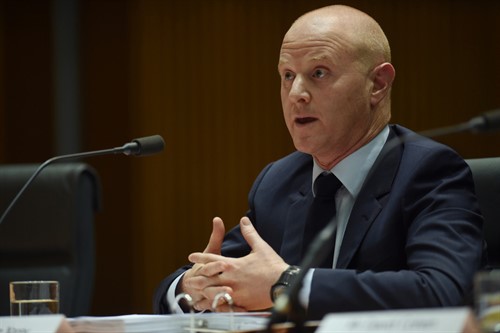 Ian Narev explains the CBA's position at the committee hearings on Tuesday.
The biggest idea tabled by the committee was the potential formation of a banking tribunal that would allow customers to complain to an "independent umpire", without having to go through expensive and thus in many cases prohibitive court action. As one commentator noted:
"Interestingly, each of the bank bosses welcomed the idea, and even offered to help pay for the establishment of such a tribunal. It was almost as if they were fully briefed and their responses carefully coordinated."
Perhaps the biggest political revelation surfaced right at the end of the hearing, when Westpac chief Brian Hartzer confirmed that he had met Malcolm Turnbull and Treasurer Scott Morrison earlier this year (April or May) and that the idea of a tribunal and also the prospect of a Royal Commission were mentioned. Labor's Matt Thistlethwaite seized on this admission as evidence that a deal had been done by the government and the banks to agree to the inquiry and the setting up of a tribunal as a way to ward off a Royal Commission. The Prime Minister (PM) had earlier responded to speculation that this was the case, calling it "nonsense".
It would depend on your political stripes as to whether you thought this was actually a grave admission of a banking/government conspiracy, or just part of the normal interaction between the government and key stakeholders regarding a common area of community concern.
INTERESTING PROPOSAL?
Hartzer had another interesting proposal when asked about "accountability". He said Australia should adopt nation-wide online reviews for financial planners instead of UK-style senior executive regulation. Here at Adviser Ratings, were happy that the Chief Executive of one of the big four banks is on the same page as us, and endorses our platform!
All in all, those wanting blood from the banks were disappointed. The banks have assured us that a Royal Commission is not needed and that it would only delay the remedial action that they say is already underway. They apologised and admitted they had work to do – and were getting on with doing it. It's fair to say that many within the industry agree with this sentiment – problems are already known and documented, action is what is now required. It is interesting whether this commitment from the banks would be adequate with a different cast under inquiry - as Phillip Coorey noted in the Fin Review:
"One imagines that had the heads of the CFMEU appeared instead before a committee, apologised for the union's wrongdoings and rotten culture and promised to make it all better, the Coalition would not have been appeased."
We will have to "wait and see" if any effective reforms will emerge from this particular inquiry. As the PM has noted, it may take several years for remedial action to filter though, to change any cultural problems that exist within the banking sector.
Article by:
Rodney Lester
Was this helpful content?
Let others know - share and vote-up