This week Westpac announced its intention to stop licensing advisers to offer personal financial advice, joining its big-four rivals in abandoning the once-dominant model of vertical integration. The decision to stop licencing advisers, who either work directly for Westpac or operate as authorised representatives under its Securitor and Magnitude brands, is expected to result in the loss of 900 full time jobs. A small proportion of its in house advisers will move to the boutique advisory firm Viridian. The change will result in the breakup of the standalone BT Financial group, with insurance to be absorbed into an expanded consumer division and private wealth, platforms and super to be included into its business division.
The move follows the other big banks decisions to exit the personal advice space. Consistent underperformance together with a series of scandals as outlined in the recent Royal Commission has cost the major banks dearly – the price for the major players for just the "fees-for-no-service" scandal, including compensation and program expenses is itself approaching $2 billion alone. Westpac share is around $500 million and counting. Many institutions have not yet completed their reviews into the full scope of fees for no service beyond the instances already reported to ASIC since 2013.
The bank anticipates one-off costs of $250 million to $300 million across two years, but long-term savings are expected to be in the realm of $280 million per annum. The value of the current deal with Viridian was not revealed, although some media has speculated the amount to be less than $50 million.
Impact on Advisers
Around half (331) of Westpac's advice network are authorised by the Securitor and Magnitude brands. Westpac said that those working within these licensees will be assisted with different options, including self-licensing or moving to another licensee which may include Viridian. The bank said about 175 BT Financial Advice staff, including 90 advisers, will move to Viridian – with around 330 salaried advisers currently employed by Westpac, the change will leave the best part of 250 advisers looking for a new home.
For its part, Viridian, which currently has around 130 staff, said it also intended to acquire the Securitor and Magnitude brands, but had been unable to agree to final terms and conditions.
Westpac will cease taking on new financial advice customers immediately and will support existing customers until the deal with Viridian is completed on June 30.
The bank said those working within Securitor and Magnitude will also be assisted with different options, including self-licensing or moving to another licensee. Advisers have until September 30 to find a new home, after which all face-face advice will cease across Westpac licences.
CEO Comment
Westpac chief executive Brian Hartzer said "The decision to exit the provision of personal financial advice by financial advisers under our licence has not been taken lightly, and our priority is to ensure the smoothest possible transition for customers, advisers, and support staff."
Hartzer said most customers did not differentiate between banking and wealth products and just wanted help to buy a home or plan for retirement. "We're realigning our capabilities into the lines of business where it makes most sense…(customers) expect professional service that meets their financial needs."
On exiting the provision of personal advice, Westpac chief executive Brian Hartzer said the decision reflects the current environment, including the ongoing shift to self-licensing.
Advice Moves Away From Vertical Integration
Adviser Ratings has previously reported on the shift away from institutional licensing towards the non-aligned and self-licensed space. Three years ago there were 1,300 licensee's, today there are nearly 2,300. The shift is also reflected in Westpac's owned and aligned adviser numbers. The growth and subsequent decline in the number of advisers across the BT, Securitor and Magnitude brands over the last ten years can be seen in the accompanying chart – noting the steep reduction in the last two years.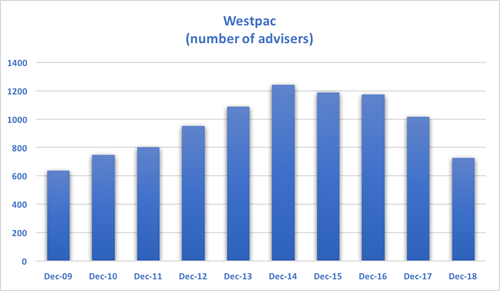 The trend has continued. In December 2018 Westpac had 725 owned or aligned advisers, the latest Adviser Ratings analysis indicates at present (March 2019) this number is 659.
Client Remuneration
The ongoing client remediation in relation to ongoing advice fees for clients of Westpac's salaried advisers is expected to be completed by the fourth quarter of 2019. Earlier this month, ASIC slammed the banks for failing to complete further investigations into the fees-for-no-service scandal and Westpac has been called out for not providing a time frame or details for the reviews to be undertaken by its financial advice subsidiaries (Magnitude and Securitor).
During questioning at the RC, Hartzer it was impossible to quantify how much the bank might need to repay customers of aligned advisers because of poor records. For now, Westpac has said that it is "continuing to work through its remediation approach" for those who were charged fees by authorised representatives.
While Westpac will be responsible for compensating customers for past issues, Hartzer said any future issues will be the responsibility of Viridian.
End Of An Era
The move away from vertical integration by most of the major players in Australia is a far cry from the expected benefits of synergies and big profits that the banks had hoped for when consolidation of the wealth industry started two decades ago. The price put on reputational damage resulting from not being able to effectively manage the inherent conflicts of interest, together with procedural and process failures such as "fees-for no-service" is intangible. In monetary terms, it has been estimated that the total cost of the "fees-for no-service" scandal may cost AMP, IOOF, Macquarie and the big four as much as $7 billion.
The silver lining is that the transition away from VI opens up opportunities for new players and business models. Hartzer himself has argued that niche businesses can still do well if they can target particular audiences with high-quality, independent advice that customers with more complex needs are willing and able to pay for. Surely better things lie ahead for the industry.
Article by:
Adviser Ratings
Was this helpful content?
Let others know - share and vote-up