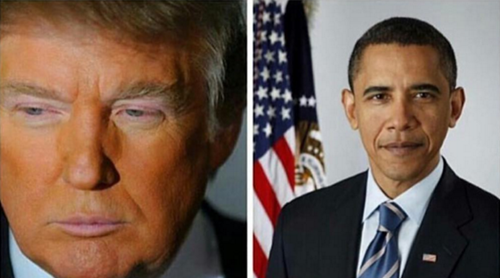 "Orange is the New Black"
Markets up, markets down, markets up again...anyone who thinks they know what the effect of a Trump Presidency will have on the global economy is playing with fire. We just don't know if he means what he says and will have to wait and see. With so much already written about his historic win, it might be wise to just give the situation a few weeks to settle down so we can more clearly see what happens. In the meantime, the guys at Watershed Funds Management sent us their take on Trump's win - and we thought the headline and accompanying pic was too good to ignore.
By Adam Rowley
Two countries; The UK and USA walk into a bar…
UK: Blimey, Voting for Brexit was the stupidest thing any country could have done to itself this year!
USA: Ha! - Hold my drink for a minute...
The media got it wrong. The pollsters got it wrong. The Democratic Party got it wrong. The betting markets got it wrong. The markets got it wrong. And many sources claim even the Republican Party got it wrong. 
In a stunning upset thus week, Donald Trump was elected as the 45th President of the United States, sending markets and US futures into freefall. Most observers, ourselves included, were of the belief that even a nation that had previously elected wrestler Jesse Ventura, Arnold Schwareznegger and Jerry Springer to high political office, would baulk at electing the former reality TV star as President. Additionally, Trump's campaign was marred by controversy, from his lewd remarks in reference to women, to a series of outrageous claims with respect to his intentions for US policy on immigration, trade and geopolitics. To many outside observers he seemed unelectable. But Trump was able to prey on voter fear and their general dissatisfaction with the current state of US politics to secure an unlikely victory underpinned by his an anti-globalisation agenda on trade and immigration.
Investors worldwide held their collective breath as the President-elect began his victory speech last night outlining his plans and hopes for the nation. However, the brash and at times irrational Trump from the campaign trail who bragged of building two thousand mile walls, ripping up trade agreements and imprisoning his opponent, became far more measured and conciliatory in his message.  He was magnanimous in victory and spoke of the nation coming together, of healing political division and reinvigorating the US economy via a prodigious investment in infrastructure.
His speech went a long way to assuage the fear of US investors who hope Trump's promised spending plans coupled with his proposal to slash the US corporate tax rate from 35 per cent to 15 per cent could trigger long overdue inflation and take pressure off the Federal Reserve to keep interest rates near zero. There is also optimism that the Republican clean sweep of the White House and Congress is poised to end six years of legislative gridlock and enable Trump to deliver his pro-business agenda on tax and regulation. Subsequently the US market failed to follow the global stock rout and the Dow Jones closed up 1.4 per cent.  
Despite this buoyant market reaction, there still remains considerable uncertainty with respect to the policy intentions of the Trump administration. Concerns remain with respect to his campaign threats to ignite a trade war with China, to impose a 35 per cent tariff on Mexican goods, to renegotiate the NAFTA trade deal with Mexico and Canada and to reject a pending Pacific Rim deal with 11 other countries including Australia. However, there is confidence that the fact he has to work with both the Senate and Congress to pass such legislation will prove a moderating influence on his policies. Additionally, many Republicans have already flagged they will not support any such anti-market, protectionist agendas. As these issues are gradually resolved we expect heightened market volatility.
Was this helpful content?
Let others know - share and vote-up