At Adviser Ratings, we're trying to help rebuild consumer trust in the Financial Advice industry. Being an independent and unaligned industry promoter affords us a unique position within the industry as an unbiased and trustworthy source of information.
One of the main services we provide to help communicate with consumers is through publishing customer reviews of advisers. As advisers (and judging by the amount of times it is mentioned on websites and email signatures) you know yourselves how important positive referrals are.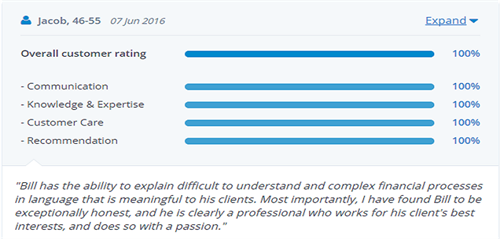 Bill Savellis Client Review
Increasingly, today's consumers – your potential clients, are more savvy and sophisticated than ever. Online forums and review sites provide a modern, reliable and easily accessible network from which to gain valuable opinions of products and or service providers. Indeed, research from the US indicates that 90% of people think that reviews are more important than any information provided by a sales person and 88% of people trust reviews as much as they do personal recommendations made by friends and family.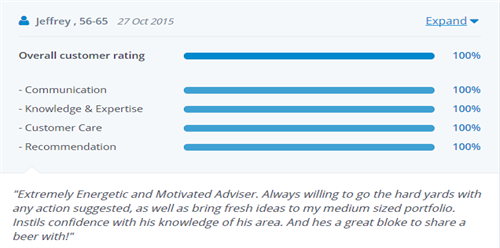 Enzo Fantasia Client Review
Having reviews on your profile has multiple benefits:
It shows you are willing to be transparent and welcome open feedback from you existing clients
It allows potential clients to get real, reliable feedback from individuals who have already experienced your service
It provides a validation of your ability to parties interested in using your services
It is accessible 24 hours, 7 days a week, so it is available to people when it suits them.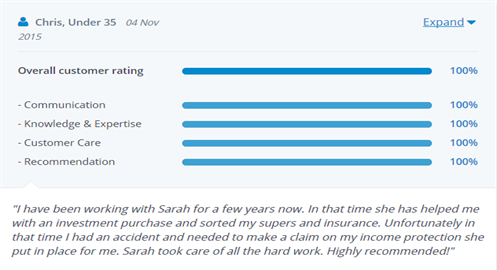 Sarah Rogers Client Review
As advisers, you know yourselves that you have scores of happy clients who really value your service. If they didn't – you would go out of business. Yet thanks in part to a litany of high profile scandals, many Australians still have reservations about seeing a financial adviser and about the value of financial advice.
You can't control all the bad publicity the industry has received. But you are able to tap into your client base – the very people you know are happy with you and who are experiencing the benefits of financial advice. These voices can provide a powerful challenge to negative perception. We have made the review process as easy and simple as possible. It literally takes 2-3 minutes to leave a review on your profile.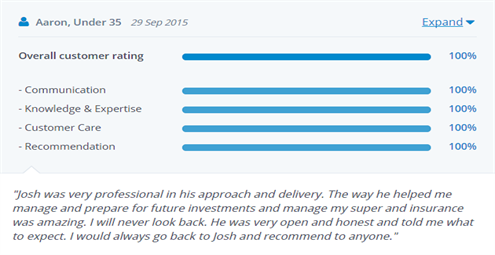 Josh Wingrove Client Review
To be frank – we think it is a no-brainer for advisers to encourage their clients to take a couple of minutes to review them. If you are unsure or have any questions about this process, we urge you to contact the helpful staff at Adviser Ratings who are only too willing explain the process in further detail, to help you help yourself.
Take a moment to have a look at the small selection of reviews of advisers from their clients in this article – these are clients who were happy to acknowledge the help given to them by their trusted financial adviser. We're sure you have clients who are willing to say the same sort of things about you!
Article by:
Rodney Lester
Was this helpful content?
Let others know - share and vote-up