Against the backdrop of a shrinking financial adviser market, the cost of participating in the blooming profession is rising substantially by the year.
The latest indication of that is the increasing ASIC levy, which is slated to grow by almost a third (31 per cent) in a single year to $1500 a year for licensees plus $3138 per adviser in 2020-21, from $2426 per adviser in 2019-20.
The regulator's estimate is based on ASIC recovering more than $71m from just shy of 3000 licensees and 21,308 advisers listed on the Financial Advisers Register.
However, as the Financial Planning Association (FPA) has stressed, the estimate and the final bill that hits businesses' desks has a history of varying.
"The FPA notes last year's estimate was wrong by 54 per cent (i.e. between the CRIS and the final) so the actual levy figure could be significantly higher," it said in a statement.
The industry association has called on ASIC to review the funding model "before more planning businesses are forced to close".
Adviser Ratings analysis suggests by next year, there will be far fewer licensees and advisers to share the industry funding cost in future years. In fact, we predict the number of advisers may have dropped below the 17,000 mark. In our last Musical Chairs update for Q2, 2021, the number of listed advisers had dropped below 20,000 for the first time.
Rising costs mean rising fees
For advisers reading this, it will be no secret the cost to advise is escalating at a rate previously unseen, in part due to the professionalisation of the market. For example, data from Striver and Adviser Ratings shows the average graduate is brought in at $55,000, but businesses often pay 1.45 times that when they account for the professional year, on-costs and licensing. For practices, there's also PI insurance and the cost of education for existing employees – whether that be a full degree or the exam bridging requirements.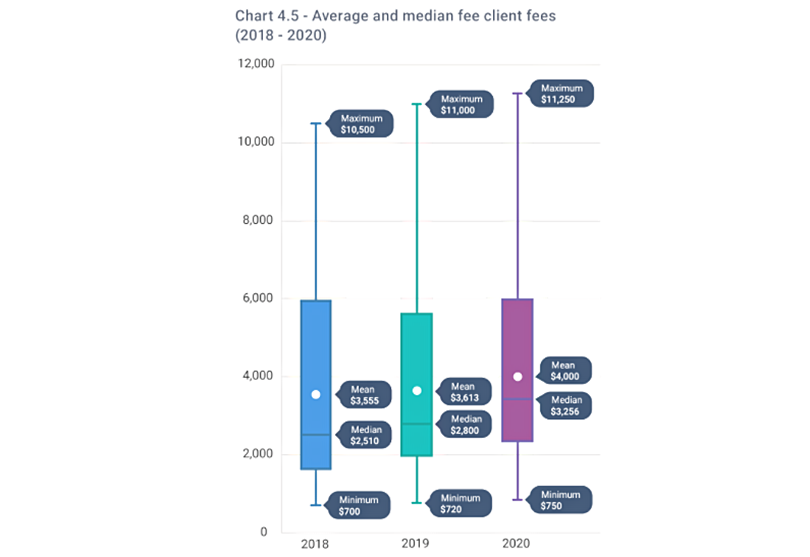 Source: AR Data
Perhaps unsurprisingly, these costs have been at least partly passed on to clients. Our research shows the median fee has risen by 16 per cent in a year to $3,256 and most advisers are charging fixed fees. As the costs to advise increase, it's likely we'll see fees rise further.
At the same time, advisers are having to part from unprofitable clients, with revenue pressures directing many businesses towards a smaller pool of high net-worth clients. Again, this will likely put upward pressure on the cost of advice.
As ASIC raises its industry funding levy, the regulatory body has also been conducting an inquiry on how to make affordable advice available to a larger number of Australians.
However, with a smaller number of advisers, rising costs and fees and a shallow pipeline of new talent, it may be quite a challenge.
Article by:
Adviser Ratings
Was this helpful content?
Let others know - share and vote-up