This article is a walkthrough of soon to be launched Marketplace tool, providing the most valuable way for advisers to choose the best product for them and their clients. Have your say here www.adviserratings.com.au/marketplace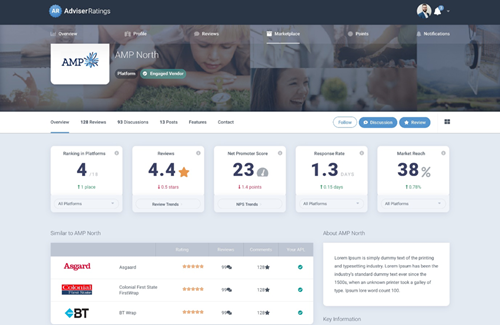 Gauging the feedback, we've received, most advisers are at least aware of the Marketplace coming out shortly. If you're looking for a succinct description, it's the first place ever for advisers to rate, review, and compare all products and services in the market. And why are we building this? Simple. Advisers have been asking us for a long time.
And even though it's taken us twelve months, and a huge amount of time, effort, and money for us to build, it was the obvious next step for us to pursue. We've built our business on ratings. Originally starting with consumers rating advisers, we've now pivoted into advisers rating products and services.
So we wanted to walk you through what it's going to look like, how you will be able to engage with it, and how we think it's going to radically transform and improve the way advisers find and choose the products and services they use.
Phase 1
Let's walk you through the first stage of the Marketplace – collecting the initial ratings and reviews. Our goal here is to create the most valuable tool in financial advice. The best way for us to achieve that is by collecting the most up to date and accurate opinions from the best advisers in Australia. While we are well and truly on our way to knocking that feedback goal out of the park, it's not too late now to have your say here www.adviserratings.com.au/marketplace
Phase 2
The second stage is where our PHD data scientists make sense out of the responses. We need to calculate all the feedback, break it down to insights across states, education level, licensees and a range of other factors. From there, upload all the ratings and reviews into the individual corporate profiles for advisers to jump on and review all the results.
This is going to take us a month or two, so stay with us. While we have recently successfully closed one of the largest crowd funds in this country, we still have our limitations. We wish it was instantaneous, but the reality is – we need a couple of months to manually make sense of everything and get it uploaded where it needs to be. We will however release early insights to let everyone know it's coming!
Phase 3
Final stage will be the full release. Currently due out in mid to late November, we are very excited about the prospect of delivering to advisers across Australia, the ability to compare notes on products and services they use every day. We know it's a huge information gap in the market, and to play such a pivotal role in solving is something we are excited to lead the market with.
Advisers will be able to come on, ask questions, provide feedback, leave ratings, and even compare products and services against each other. Want to know which platform has the highest net promoter score and does international equities… well, we will have the answer.
So over the next few months, please get involved, have your say, and join your peers in producing the most valuable tool in financial advice. It takes five minutes to provide your feedback here www.adviserratings.com.au/marketplace
Article by:
Adviser Ratings
Was this helpful content?
Let others know - share and vote-up