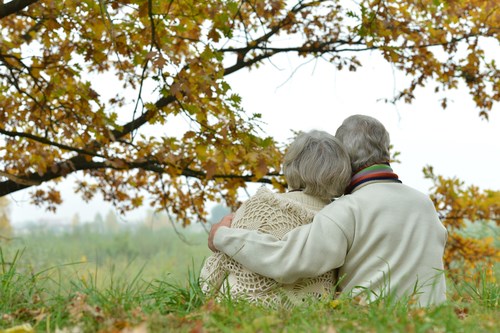 By Adam Faulkner
Discussing aged care, is a subject that many families tend to avoid, yet it can be a very positive lifestyle decision. The trouble is, we often have to make this decision at the worst possible time – when illness or incapacity strike – when we have pressure on us "from all sides" and little time to think through the options.
We think it's far better to understand the options now, have the discussions we should have with our loved ones, so that we can make an informed decision, based on the needs and wishes of the people most affected. Avoiding these discussions can cause heartache down the road, and can turn what should be a positive lifestyle choice - into a hastily considered outcome that no one is happy about.
AGED CARE CHOICES EXPLAINED
The reason for the difficulty in discussing aged care options begins with the simple fact that it means we are no longer 100% confident that we can "look after ourselves". Many of us are fiercely independent and don't like the idea that we need "caring for". Yet as we get older, it is almost always the best possible answer, to combine lifestyle choices with healthy living and managed healthcare options.
The government is very helpful in this area, and you will find a great deal of useful, easy to access, information at myagedcare.gov.au Your choices will be determined by three things:
The preferred lifestyle for you/the individual concerned;
What financial resources are available;
Various options that can add to quality of life.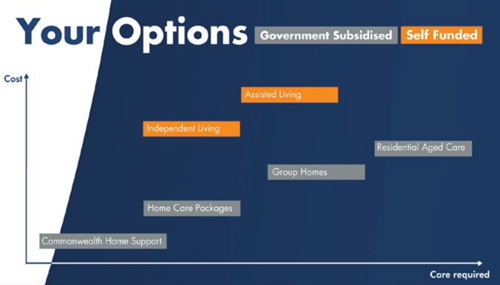 Decisions, such as where to live, will impact on the cost, with larger cities tending to have a higher demand which can drive up prices. However, the way costs are structured allows a fair degree of flexibility for every individual.
Many people prefer to stay at home for as long as they can, and they can receive help from Commonwealth Home Support. As their need for medical help increases, they can get that help from Home Care Packages. When that option is no longer viable, they can then move into a Residential Aged Care facility.
Alternatively, some individuals prefer to move into a retirement village, (independent or assisted living) often with an Aged Care facility nearby, for when the time comes.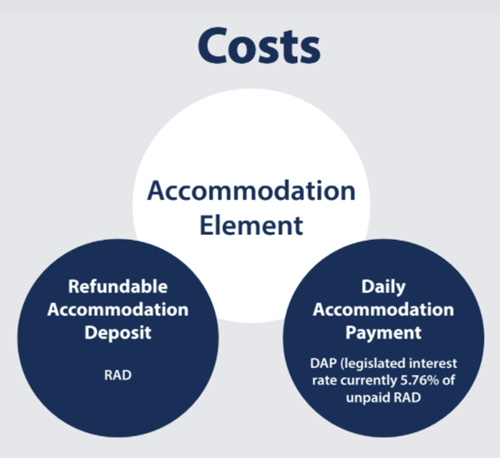 THE COSTS OF MOVING TO AN AGED CARE FACILITY
There are two aspects to the cost of aged care: The accommodation and the level of care.
The cost of the accommodation is covered by the Refundable Accommodation Deposit (RAD) and/or the Daily Accommodation Payment (DAP). Just remember that the RAD is a deposit, which will be refunded to the resident or their estate in full. Unlike many retirement villages residential aged care does not have deferred management fees payable upon exit.
The RAD is the cost to move into a particular room of their choosing. This can be as much as $2m and more for some high-end locations with bespoke service offerings.
The RAD can be paid as a lump sum, or they can choose to pay "interest" (the DAP) on the amount they choose not to pay upfront. The interest rate charged is legislated and doesn't change between locations or providers. The resident can also request that the DAP be drawn from the RAD they have paid. Which means with this strategy, they can access a room they might otherwise be unable to afford.
Consumers are protected by legislation that ensures no RAD can be requested that leaves the individual with less than $46,500 in assets. This can also restrict the rooms available in a "low means" situation.
Once a room is chosen, then further service fees are applicable. These are confusingly named Extra Service Fees and Additional Service Fees. Extra Service Fees deliver the resident a shopping list of services that they will be charged for every day. Additional Service Fees are for services that they can choose to opt-in or out of.
Now that they have paid for the room and the services they want, next they need to add the cost of medical care to the total aged care cost.
THE COST OF MEDICAL CARE
Every resident in a residential aged care location pays a Basic Daily Fee, which is 80% of a single full aged pension. This cost will fully cover the care they require as determined by an Aged Care Assessment Team (ACAT). If they have sufficient financial means they will also be required to pay a Means Tested Care Fee (MTCF). Unlike the Age Pension means test this is both an income and an asset test combined. However these have an annual limit of $25,000 and a lifetime limit of $65,000.
The MTCF has a concessional treatment for the family home which can be 100% exempt if certain criteria are met, or may be assessed at a capped, lower amount.
The result is that if a resident enters aged care with several million in assets, they will pay $120,000 in total medical care fees in the first two and a half years, at which point the ongoing costs will revert to the Basic Daily Fee of less than $20,000 per year.
Add to that the ongoing costs from the Extra Services Fee they chose when they picked their room, and their Additional Services Fees which are month-to-month optional extras.
On the other hand, if a resident enters care with a lower level of assets, with entitlement to the age pension, the legislation protects them from the need to pay an excessive RAD, while their Basic Daily Fee pays for ongoing care.
WHAT TO DO NOW 
Your family's long term plans regarding aged care should be clearly understood by everyone involved. It is far better to discuss and review the options now, than to wait until circumstances demand action. You will also find it takes a great deal of pressure off, once everyone understands what those plans are, and the reasons behind them.
Adam Faulkner is a Senior Adviser at Sentinel Wealth which is located in Sydney's CBD.
General Advice Disclaimer
Note: This advice is of a general nature only and does not take into account your personal situation and all of your objectives, your financial situation or needs. Before making any decisions you should seek advice from a professional, qualified financial adviser.
Article by:
Adam Faulkner
Was this helpful content?
Let others know - share and vote-up