With a growing number of unavoidable bottlenecks in the advice process, Australian advisers are increasingly looking for new ways to reduce production time and spend more time with clients. However, inefficiencies continue plague many businesses, which can affect profitability, growth plans and client satisfaction. 
Adviser Ratings research shows compliance and production continue to be among of the biggest hurdles advisers face, but the solution touted by most is increasing process efficiencies.
In fact, 52 per cent of advisers we surveyed said their number one focus this year would be building in efficiencies around their processes. Other top priorities included creating new business opportunities (35 per cent) and enhancing compliance processes (31 per cent).
Solving the SOA dilemma
One major issue many advisers are still grappling with is how to reduce Statement of Advice (SOA) production time. On average, advice firms are putting in almost 13 hours of work to turn around an SOA (see Figure 1), a survey from Virtual Business Partners (VBP) has found.
Solo advisers have managed to cut down their average turnaround time to less than 12 hours, while times at larger firms vary, with firms of 6 or more advisers taking just over 12 hours, on average, but firms of 4-5 taking longer than 14 hours, the same research showed.
Figure 1: Average time it takes to produce a standard Statement of Advice (SOA)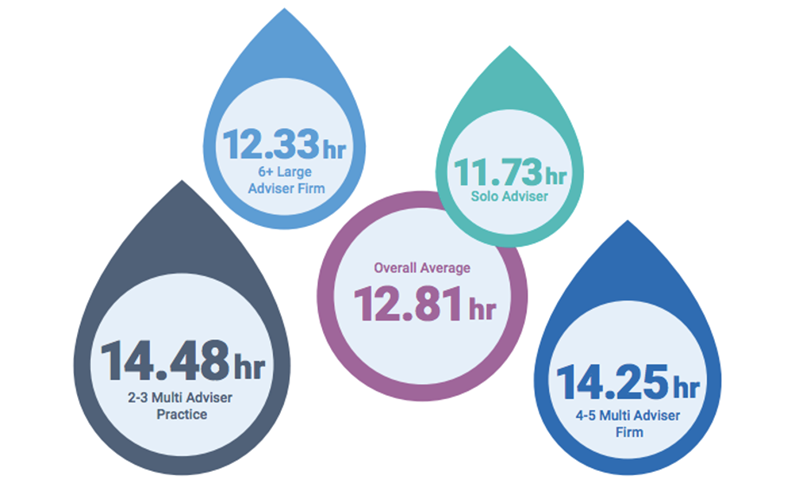 Source: VBP Practice Efficiency Survey, 2021.
There are also significant disparities in how quickly practices deliver an SOA to clients.
Among practices, 2-in-5 are delivering an SOA to clients in 10 days or less (from first meeting to the presentation of advice), but more than 1-in-5 are taking up to 30 days, the VBP survey found.
Again, there are many factors driving this, including some processes that are outside of the control of individual advisers. For example, if a client is slow to respond to an email with an important question, advice delivery times can blow out. Waiting for a third party to manage compliance can have a similar effect.
What other businesses are doing to speed up SOA production
Slower advice delivery can affect many aspects of advisers' businesses, from client satisfaction to administration costs.
Some advice firms are tackling this challenge with strict deadlines on how quickly compliant advice must be delivered. Collaborative sharing technology has also helped some businesses to cut down on double handling and to identify avoidable bottlenecks.
Other models being used by businesses to improve SOA efficiency include:
Having a process template with clear workflows.
Outsourcing production, administration or paraplanning overseas, including with a dedicated team.
Using an automated, compliant system to create SOAs.
Using advice templates that don't require much editing.
Ultimately, every advice business will have to decide where and how they can improve efficiencies based on their individual circumstances. Knowing what others are doing may help.
Article by:
Adviser Ratings
Was this helpful content?
Let others know - share and vote-up