There are many excuses we can come up for not making 'optimal' decisions around our financial lives.
It's too complex, too emotional or I'm too busy all get a good work out. But if you want to see a brilliant summary of the questions and some answers the World Bank is here to help.
While they are mainly focused on development goals a new  report called Mind Society and Behaviour contains a treasure trove of the latest info about how we tick money-wise. It's brought together all the most relevant aspects of a neuroscience, cognitive science, psychology, behavioural economics, sociology, political science, and anthropology.
It's quite long, detailed and freely downloadable at the World Bank, but here are some key points relevant to financial advice. 
Despite the economic models it will come as no surprise we are not calculating automatons i.e. it's not just about the what some once called the pounds, shillings and pence."Rather, people are malleable and emotional actors whose decision making is influenced by contextual cues, local social networks and social norms, and shared mental models. "All of these play a role in determining what individuals perceive as desirable, possible, or even "thinkable" for their lives."
Conventional financial literacy programs have limited impact in low-income countries and there's a universality of social and psychological influences on decision making which makes this the case for high income nations too.
The report quotes a case study "A recent effort in South Africa to teach financial literacy through an engaging television soap opera improved the financial choices that individuals made. Financial messages were embedded in a soap opera about a financially reckless character.
"Households that watched the soap opera for two months were less likely to gamble and less likely to purchase goods through an expensive instalment plan."
The graphic below gives insights into the ways we think and has obvious relationships to issues around money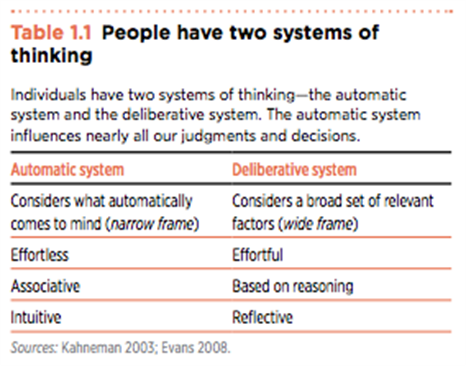 In short it's been argued the inscrutable elements of human irrationality especially around money is shared around individuals in such a way it cancels itself out  when large numbers of people interact around markets.
However as personal services such as planning work with individuals and not crowds it may be worth checking out what the Wold bank advises.
by Christopher Zinn, Communications & Campaigns Director, Adviser Ratings (& The World Bank)
Article by:
Christopher Zinn & World Bank
Was this helpful content?
Let others know - share and vote-up