As advisers need to become more and more specialised, there are gaps waiting to be filled. Most advisers cover off what you would consider the "hygiene" factors of planning being superannuation, life insurance, income protection insurance, retirement planning, savings and investment wealth strategies and doing all these tax effectively. 
However, there are nuances to each of these elements - for example, a life insurance adviser may have a better medical knowledge of what is acceptable for certain underwriters as opposed to an investment adviser (who provide life insurance as an adjunct to their core investment planning business). An accountant may be better at structuring investments more tax effectively than a planner who has limited tax knowledge. Or an adviser may want to concentrate their wares on servicing a type of profession, demographic or gender.
It's important for advisers to start becoming more and more specialised - finding niches within the top core of planning "musts" or finding markets or areas of advice that are currently underserviced.
Adviser Ratings is building up this history of adviser's experience and skillsets by demographic, geography and customer type - in a bid to truly become more attractive to not only a particular type of customer but also to licensees looking to fill gaps in their advice offering.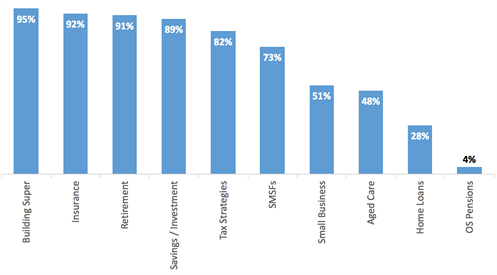 Graph of key skillsets of 4,000+ advisers across Australia, Source: Adviser Ratings Research
Was this helpful content?
Let others know - share and vote-up