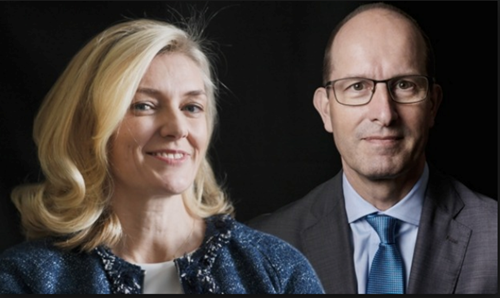 Catherine Brenner (AMP Chair) may be asked to resign at tomorrow's Board meeting
Shockwaves were sent out through the finance community on Friday when the senior counsel assisting the royal commission recommended that AMP be charged for breaching section 64 on the ASIC act, which is a criminal offence and that it is open to find that AMP breached the Corporations Act by making "material" and "deliberate" attempts to mislead ASIC about the "extent and nature" of the ongoing fee for no service conduct.
Senior counsel assisting the commission Rowena Orr QC outlined a series of possible misconduct findings against AMP, including breaches of the Corporations Act that carry criminal penalties. The banking royal commission was told the attitude at a very senior level within AMP was that it was acceptable to be other than frank and candid with the corporate regulator.
"Through AMP's dealings with ASIC regarding the extent and nature of its fee for no service conduct, AMP adopted an attitude toward the regulator that was not forthright or honest, and demonstrated a deliberate attempt to mislead,"
It will be left up to the regulator, ASIC, to make an assessment of the recommendations and to decide if and how they may wish to proceed. They have different methods to use within their arsenal, including whether they engage at a civil or criminal level - and at the company or director and officers level.
This is two months prior to the Banking Executive Accountability Regime (BEAR) regime - to commence 1 July 2018 - which on top of any ASIC criminal or civil proceedings, gives APRA powers to impose up to $210M fines, defer remuneration of Bank's CEO's and senior executives and makes it easier to impose bannings on directors and removing senior executives from office. I'm sure AMP is scrambling to institute new measures to avoid coming under the glare of APRA - which, whilst focused primarily on the banking activities of the Authorised Deposit Taking Institution (ADI), is intended to capture wealth management arms of banks that may adversely affect the prudential standing or reputation of the ADI.
We note that AMP have convened an emergency Board meeting tomorrow, at which it is there will undoubtedly be pressure for AMP Chair, Catherine Brenner, to resign.
ASIC
The commission heard that ASIC has criminally prosecuted just one holder of an Australian Financial Services Licence in the past 10 years and had launched civil action against a licensee just six times, with 4 of those proceedings commencing in the last 12 months.
ASIC, through Louise Macaulay, senior executive responsible for financial advisers, was at pains in the Commission to press the impact of the lack of budget ASIC, has to monitor and supervise 24,000+ advisers - with a team of 8. I'm sure she is aware one of the outcomes of ASIC will have increased regulatory requirements and require to be far more robust in its procedures - but she couldn't be clearer "Show Me The Money".
I'm sure the Board, executive team, shareholders and advisers of AMP are all watching this space closely and wishing for the Royal Commission's next agenda to hit the papers (which by the way happens to be banking practices with small and medium businesses).
Advisers On The Front Foot
Adviser Ratings contacted several advisers who are licensed by AMP to get their reactions regarding the criminal recommendations. They all expressed disappointment with the situation. Rob Sandover, from Provident Financial Services in WA was "extremely disappointed" especially as the offences relate to the executive level of AMP. Other advisers, who asked not to be named shared their disappointment saying "it is what it is unfortunately, we've just got to get on with it"
Advisers stated that they had been contacted by a vast majority of their clients regarding the proceedings at the royal commission over the last couple of weeks and were working overtime to reassure them that they were working in their best interests. All advisers we spoke to expressed the need to "get on the front foot" over these matters and communicate with clients to both get an understanding of what their clients are feeling, how they are understanding the situation and also to explain to their clients how they may or may not be affected by developments.
Mr Sandover reiterated the need to be transparent. He thought trust had been broken with the general public, but a key point he was making to his clients was that the advice they receive comes from "us - not AMP". Although concerned at the revelations coming out of the royal commission, he was confident in his and his firm's ability to weather the storm. In encouraging word for other advisers who are also confident in their own propositions, he said "if you're good at what you do, you'll be ok - this is just another hurdle."
Other News
In other news, the commission has also recommended that financial services firm Henderson Maxwell face criminal charges. Celebrity Adviser Sam Henderson faced the commission earlier this week.
Senior counsel assisting the commission, Rowena Orr, said the firm may have committed an offence under the Corporations Act by issuing a defective financial services guide. Orr also said Henderson's advice to FWC Donna McKenna might amount to misconduct under the Act, and that he may have breached his obligation to act in his client's best interest and to give priority to her over his own interests.
Note - AMP and Adviser Ratings
Volume to AMP's advisers profiles have increased 3 fold in the last week, with over 100,000 adviser site-wide searches in the last 2 weeks on back of the media coverage. We'd recommend advisers that in times like these the best course of action is that if you are doing a good job, your clients and the public just need validation, and one of those ways is obviously to get client reviews on your profile. The public is checking you out online.
Article by:
Adviser Ratings
Was this helpful content?
Let others know - share and vote-up