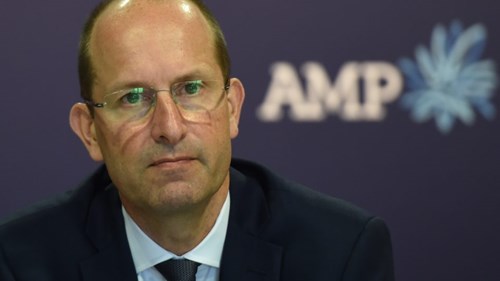 The royal commission into banking has claimed its first big scalp after the chief executive of AMP, Craig Meller announced he would be leaving his role with immediate effect. The commission revealed this week that AMP had misled ASIC over 20 times regarding customers who were charged fee for services they were never provided.
It also emerged that emerged that senior executives within AMP had repeatedly interfered with an "independent" report on the scandal by law firm Clayton Utz.
Mr Meller, who was due to retire at the end of the year, has apologised "unreservedly" for scandals involving the financial services provider and said he was "personally devastated" by the impact on its customers.
The scandals at AMP have followed further revelations from the royal commission, including NAB Staff allegedly involved in a bribery ring to secure loans and the CBA admitting some of its financial planners have been charging fees to clients who had died – in one case for years.
In response to these revelations, the Chief Executive of Choice, Alan Kirkland said:
"It's clear the likes of AMP and CBA feel no compulsion to abide by the law and that's why the law needs to change and we need to see bigger penalties,"
Treasurer Scott Morrison responded by warning that AMP executives could face gaol time for their role in the scandal, and declared his confidence in ASIC, saying the regulators investigations into the revelations was continuing.
More broadly, the treasurer also put the wider industry, including board members on notice, saying:
"But let's not forget, it's not just chief executives here…boards, at the end of the day, are responsible for these organisations, and there will be a lot of focus on executives, where executives haven't been able to deliver here."
Finance Minister Mathias Cormann said Mr Meller's resignation was an obvious consequence of the commission's work.
"Obviously some of the news that has emerged in the royal commission is very concerning indeed and this (Meller's departure) is obviously one of the consequences out of that process," Senator Cormann said.
It's all very obvious, obviously.
This more recent tough talking and proposed action from the government is in stark contrast to treasurer Scott Morrison's previous assertion that calls for a royal commission into the banking sector were a "populist whinge", which he made in 2016.
The royal commission still has months to run and may yet be extended, but it will be interesting to see what the ultimate consequences will be for the people responsible for the scandalous behaviour, and indeed, whether any gaol time does result.
There is no doubt many Australians want to see those responsible go to prison. Without pre-empting any final action, and in political terms only, in floating this possibility as the government has done, they may be making a rod for their own back should this possibility not eventuate.
Advisers On The Move
Outside of the political implications that may stem from current commentary, Adviser Ratings has some noteworthy research on how advisers themselves are reacting to the well-known problems with the financial industry's vertical integration, and the real and imagined conflicts associated with advisers being owned and aligned with the major players who have come under scrutiny in these initial stages of the royal commission.
In what may be a response to pressure or expectation to promote their owners products (ASIC recently found that although "in-house" products only made up an average of 21% of an advisers Approved Products List (APL), ie products they were allowed to sell to their clients, 68% of clients funds were actually invested in these "in-house" products), advisers have, for the last 5 years at least, been moving away from the major institutions (the big 4 banks +AMP and IOOF) and joining smaller advice firms that are not perceived to have the same "conflict" issue.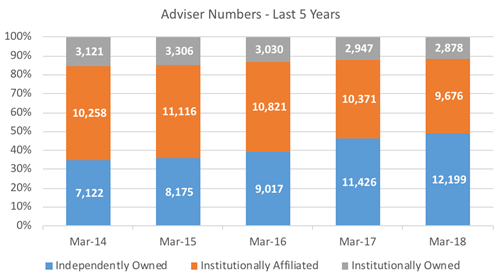 In the last 5 years, these "unaligned" firms have grown from around 35% of the total adviser market, to almost 50% today. This change means there are nearly 5000 more of these advisers today than there were 5 years ago, the period of time that much of the behaviour exposed at the royal commission is recounting.
We expect the trend of adviser movements away from institutions to continue, given the current pressure on consumer's best interest duties and whether "confined" Approved Product Lists serve this duty.
It could also be said that the FOFA remuneration model is starting to take effect as new advisers adapt to the new regime of a fixed fee for service model.
Adviser Ratings CEO, Angus Woods said "our search indicators suggest more consumers are seeking advice from a non-aligned adviser, so whilst larger firms or aligned firms may be able to deliver new clients to new advisers, the growth of (for example) online leads means it is becoming easier to search for leads without the support of banks. It may also be a result of the impact of the negative media coverage surrounding banks with respect to advice".
Article by:
Rodney Lester
Was this helpful content?
Let others know - share and vote-up