I was on the phone recently with an adviser operating under the Synchron licence. He derives the majority of his income from insurance commissions, which are consistent across each insurer. He was distraught at the prospect of further changes and has almost resigned himself to trying to find a new career. His "resignation" comment came on the back of shadow assistant treasurer and shadow minister for financial services Stephen Jones reaffirming his view that insurance commissions are inherently conflicted and should be banned. With the latest Newspoll numbers showing 52% to 48% in favour of Labor, does this start to signal the end of the risk adviser? Will consumers pay for insurance? How does this correlate with the government's stance on protecting broking commissions for mortgages?
With insurers heavily exposed to retail life, there is fierce lobbying happening behind the scenes. On average, more than 75% of insurers' revenues (data from the Adviser Ratings Financial Advice Landscape 2020) are generated by advisers. In the previous 2 years, the total number of advisers in Australia has declined 26% from their highs, with risk advisers leaving the industry at a rate of 2.4 times greater than their peers (Adviser Ratings Financial Advice Landscape 2019).
The full effect of the Life Insurance Framework (LIF) is now playing out in the industry for both insurers and advisers. In 2020, the shift in remuneration, alongside the pandemic and policy repricing, saw a virtual tsunami hit the insurance industry. Insurers' profits were hit significantly and risk advisers' workload for existing and new clients increased significantly. The response by insurers to an overwhelming number of claims saw pressure on processes, support and technology, leading to significant declines in adviser sentiment.
There are now only approximately 1,800 "risk advisers" in Australia, with this number to decline further in 2021 and beyond.

The ongoing impacts of the last 12 months in risk advice combined with legislation could see up to a further 700 risk advisers exit the market, leaving adviser risk supply at dire levels. The data for certain risk insurers paints a bleak picture (captured in the 2020 Financial Advice Landscape Report).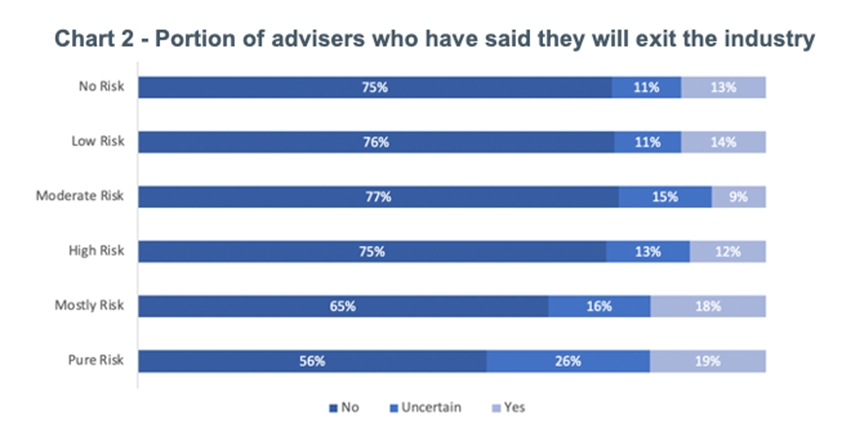 Insurers and their support structures, particularly BDMs, will play a key role in not only persuading advisers to stay but also proactively develop relationships with advisers or licensees that have signalled a strong commitment to the industry. 2021 will be a year where insurers need to play a different tune to advisers. The one outstanding – what happens in a world absent insurance commissions?
Finding risk advisers left standing, with or without commissions, will be canaries in the coalmine for life insurance companies.
Article by:
Adviser Ratings
Was this helpful content?
Let others know - share and vote-up