Over the last 12 months, the platform sector has seen an extraordinary amount of corporate activity, mostly at the big end of town, with three changes of ownership and depending on the futures of AMP and BT Newco, potentially five. To a large extent, this game of musical chairs has meant there has been limited product development for most of the legacy platforms, aside from cosmetic changes, and it remains to be seen what will happen to them under new ownership.
With COVID-19 dominating this period and advisers working remotely under extreme pressure, it has really tested platform digital capabilities, commitment to further invest in technology excellence, and flexibility of BDM and operational support teams to maintain service levels. Arguably, all of these factors are influencing adviser sentiment.
Interesting then to see an early league table of platform NPS scores below and how they have changed since 2019, as judged by advisers in our current 2020 Financial Advice Landscape benchmarking study. Netwealth has moved further to the front of the pack, with Hub24 comfortably in second place. The most significant movers are Praemium and Macquarie Wrap, jumping two and three places respectively to make it into the top four. On the flipside, CFS FirstChoice has dropped out of the top four for the time being, falling three places.

Source: Adviser Ratings Financial Advice Landscape study, Nov 2020 (n=550)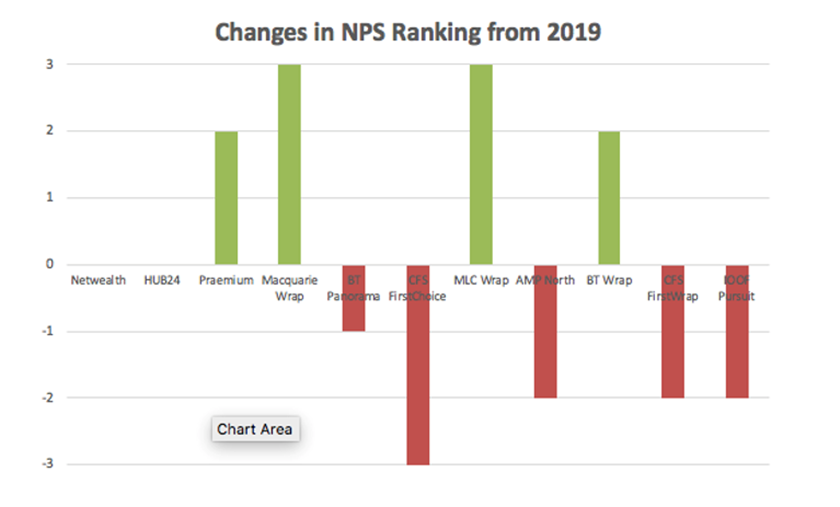 Source: Adviser Ratings Financial Advice Landscape study, Nov 2020 (n=550)
In reviewing adviser qualitative comments, some interesting perspectives are emerging:
Corporate actions

Change of ownership or pending ownership changes are making advisers nervous about what impact that will have on the platform in the future. Rather than focusing on the potential for new owners to reinvest in these legacy platforms, advisers seem to be more concerned about disruption to their business. As such, long-standing loyalties are being threatened with advisers continuing to use these impacted platforms for existing clients but increasingly using alternative platforms for new business.

"Platform is very effective and has a number of unique features while being very cost-competitive. The only problem is the AMP badge attached to it that is not well received by the general public." Self-licenced practice owner, Brisbane

Product enhancements

Advisers rewarded platforms that made their lives easier, either with major upgrades or through agile tweaks based on adviser feedback. The availability of international direct equities was commonly mentioned and SMA / MDA functionality remains in high demand. BT appears to have done a good job of communicating the upcoming consolidation of BT Wrap into Panorama and advisers seem accepting of this decision, however, this is a major migration project and advisers are understandably nervous about how it is executed.
"Wrap is migrating to Panorama in 1st quarter 2021 so resigned to this platform being made redundant quite soon." Adviser, self-licensed practice, Adelaide

Fees

Surprisingly, there has been hardly any mention of fees. It is possible, after the pricing wars of 2019, that the platforms have reached a goldilocks equilibrium?

Listening

The power of a high-quality BDM team cannot be overemphasised. Some of the newer platforms have invested substantially in growing their teams and the high-touch care and attention that they have provided advisers through the most difficult months of the pandemic are paying dividends now.
"Has come through with the goods, with excellent adviser support and consistent help when issues arise. Support staff love dealing with the Netwealth team, and clients love the simple interface and reporting capabilities." Adviser, self-licensed practice, northern beaches Sydney

Digital is more than an app, and not for everyone
Advisers are slowly embracing digitisation, and many more got religion during COVID-19 in the simplest way possible by using Zoom and DocuSign. However, platforms need to do more than roll out an app, although this is becoming a precondition for any self-respecting platform in 2020. And advisers continue to push back on too much digitisation with older client bases that are not yet ready to embrace the online interfaces, as fancy as they are, or advisers themselves who are challenged with their own transitions or the joys of onboarding clients onto a new system they are unfamiliar with.
If you have some strong views on how platforms are adjusting to support your business, please have your say at www.adviserratings.com.au/yoursay and be in the running to win from a $30,000 prize draw.
Article by:
Adviser Ratings
Was this helpful content?
Let others know - share and vote-up