Normally when anyone stands to lose something in the political game of who-gets-what they make a fuss, sometimes out of all proportion to the perceived forfeit.
Yet the 325,000 older Australians who stand to lose part or all of their pension because of the $2.4 billion budget savings around eligibility criteria have been keeping largely mum - at least for now.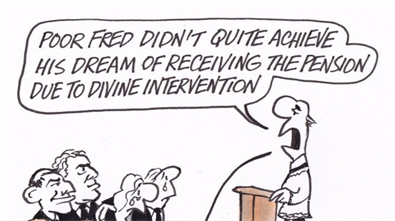 Source: Sydney Morning Herald (Ron Tandberg)
Maybe they are all wealthy millionaires and don't care, perhaps they don't yet appreciate the impact of the policy which kicks in on Jan 2017 or maybe they are waiting for some advice. And frankly having tried to navigate and explain the changes, and seen the far more expert industry bodies take time to finalise their analysis, the average pensioner could need some help.
However where to go? How many of those 325,000 who stand to lose pension eligibility will seek a qualified planner or other professional who can suggest ways of how best to respond to mitigate loss? The rich ones certainly or those with existing planner relationships.
There already been a number of stories around older Australians spending big on holidays and other big ticket items to bring their assets below the new levels. But there have also been warnings around how blowing their savings maybe counter-productive at worst or unnecessary at best. The backroom deal the Greens and the Government did this week to ensure the passage of the new eligibility levels also means that superannuation is now part of the tax white paper.
Greens leader Richard Di Natale says he knows the government is unlikely to change super settings but such analysis, as part of the tax review, will come in handy when there is a change of government or PM!
Adding to the mix we have the PM and Shorten taunting each other by claiming Labor will raid your super and the government will hit pensions.
Whichever way you argue it now and in the run-up to the next election there'll be greater uncertainty around retirement incomes and more need for help and advice on how best to address it.
Article by:
Christopher Zinn
Was this helpful content?
Let others know - share and vote-up