For many financial planners, over the last 4-5 years, it feels like they have been living through their own pandemic. If there is a positive, the vicissitudes thrown at them, laid an unbelievably solid foundation for existing and new clients, who faced their own fears about work, money and mental health that started in March 2020. An actual pandemic allowed the advice community to suddenly make ample use of its empathy and resilience that had grown over the years, traits that set it apart from any other industry or profession helping their clients through uncertainty. Advisers were battle-hardened.
 The suffocation
In the lead up to the pandemic, advisers were leaving the industry in droves. The challenge of coming up with new business models, whilst studying for an exam and dealing with the anxiety of heading back to university (for some, in the latter stages of their careers), was overwhelming for many.
In the words of Steve Legg, an adviser, who left the industry a couple of months back:
"After 30 years it had all got far too hard to deal with…it's sad because I was not ready to retire and my clients were devastated and frightened. My mental health post-Royal Commission was really bad and I nearly became a statistic... glad I didn't.  However, there wasn't any hope for me in this industry."
Sadly, that has been the case for thousands of advisers, and many continue to kick the can down the road when it comes to the FASEA exam, not to mention further study. We are fully aware, that many have already made the decision to leave the industry – the clock is ticking to December 2021 (exam) and January 2026 (FASEA qualified).

Chart: Musical Chairs Report Q2, The market has shed 6,827 advisers since Jan 2019, a move from 28,017 advisers to 21,190.
The resuscitation
Whilst the world went into lockdown, jobs lost, markets gyrated, and governments forewarned of economic armageddon, advice and advisers suddenly became "cool" again. An industry that had helped their clients see off the GFC and more recently, was itself in the midst of its own disruption and upheaval had found itself to be a saviour. It took a pandemic to change the conversation for the better.
Since March, the numbers are obvious:
We are seeing a record number of people suddenly interested in their finances, as evidenced by the volume of leads coming through Adviser Ratings and our white label partners.
2.0M+ Australians suddenly know what their super balance is with $34 billion taken out of the system as part of the
Early Access to Super regime
We have seen a record number of Aussies trading in the share market. In the early months of the pandemic, institutions were selling (-$11BN), while mum and dad retail investors were buying up (+$9Bn)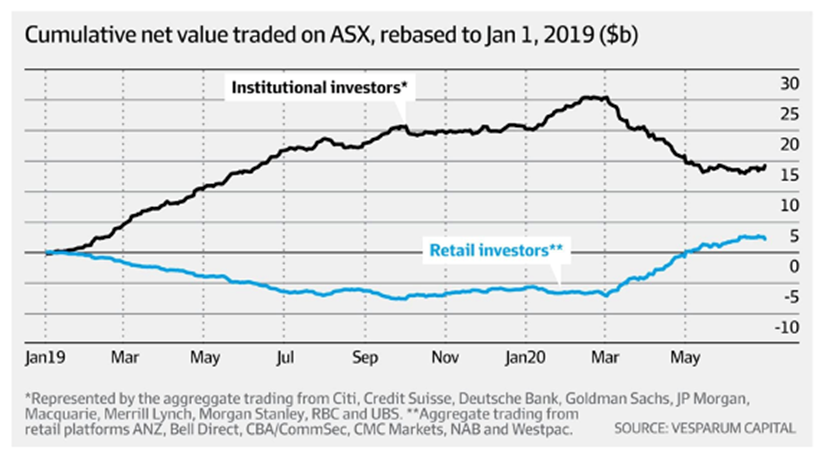 The median investable assets wanting to see a financial adviser through our platform is $250,000 since the onset of the pandemic, almost half the $400,000 prior to the pandemic. Indicating more Australians are seeking advice.
The conversation around money and the interest in preserving or growing it has never been greater. Enter a financial planner!
The ongoing challenge is around affordability and accessibility so many of these prospective clients (with <$250,000) that are coming through Adviser Ratings can find a home. We now have a government looking to address this need, having just announced the need to get scaled advice into the market as quickly and efficiently as possible (it looks like the "Record of Advice (ROA)" brought in under the Early Access to Super regime is here to stay). With the average median fee of advice sitting at $2,800 and rising, the industry, regulators and government need to quickly evolve their thinking to service the stampede of those in need. We need to go through a rebuilding stage, with all stakeholders willing to make the change....are we finally seeing alignment here?
Dominic Alafaci, of Collins House, a highly regarded veteran of the industry, echoes this sudden growth in advice:
"Despite being in lockdown in Melbourne, I am seeing record interest from first-time investors, with a record number of leads coming through sites like Adviser Ratings."
Perhaps the pandemic will be the perverse serendipitous moment to resuscitate the industry.
Article by:
Adviser Ratings
Was this helpful content?
Let others know - share and vote-up