Recent years have seen housing prices in our major cities, particularly Sydney and Melbourne, reach levels which have put the dream of home ownership beyond many Australians. A recent survey found that home ownership was not a priority for 1 in 3 Australians. Chris Browne takes a look at the issue and points out some of the pros and cons of owning vs renting your own home.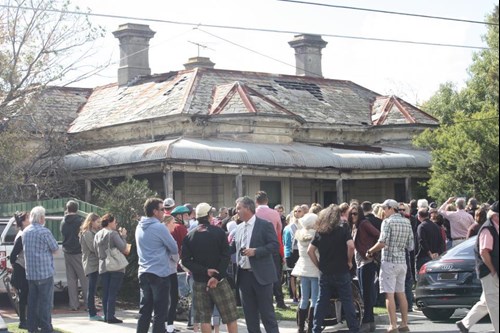 This House in Melbourne sold for over $2.5 Million in 2013 (but it was on a decent sized block in a good location...)
There's an old saying: rent money is dead money. But with the current state of the housing market, is that really true anymore?
In recent months we've seen an increasing number of articles suggesting that due to the skyrocketing price of homes, it could make better financial sense for some younger people to continue renting rather than buying a house.
I believe there's no simpler answer. There's a lot to consider. We will take a look at both the pros and cons of renting, to help you decide which is best for you.
Firstly, we'll focus on the downsides of renting over buying, and consider some important reasons why there is a large number of young Aussie's aren't yet ready to let go of the dream of owning their own home.
NEGATIVES OF RENTING
Lack of Stability
Renting will never provide the same stability as owning your own place. Most landlords will offer a lease agreement for a 12-month period, which when you think about it, isn't really a long time 
Some renters are able to secure longer leases, but these are a rare find. Those that aren't so lucky may find themselves having to move houses within a year's time in the event that the landlord chooses to sell the house or decides they'd like to occupy it.
Having to pack up your whole life and find a new home, sometimes with no more than two months' notice, can be an enormous disruption. It's even worse for those who have kids.
Lack of Control
The lack of control is something that many tenants struggle with. For most people, they quickly begin to see the property as their home. Yet because someone else owns the house, there's a long list of rules and regulations regarding what they can and can't do.
When it comes to repairs, there's a range of things the landlord is responsible for keeping well maintained, like the water system, the toilet system and essential services (hot water, heating and air-conditioning, etc). Should these things breakdown, the landlord or property manager is responsible for seeing to their repair.
However, this isn't always as straightforward as it sounds. Although the Residential Tenancies Act (1977) protects tenants' rights, it's not unusual for tenants to experience frustrating delays.
      3. No Investment
While renting may seem to be the more cost-effective option in the short term, in ten years' time you'll have nothing to show for those tens of thousands of dollars you've spent paying off someone else's mortgage.
Data from the Australian Bureau of Statistics (ABS) shows that house prices in Melbourne and Sydney have increased 10% in the last 12 months, but there's no solid evidence to suggest that prices will drop anytime soon. Likewise, there's no way to guarantee that prices won't continue to grow.  
POSITIVES OF RENTING 
Despite the lack of benefit from a long term investment, there are a number of positives to renting that may appeal – depending on your financial and lifestyle objectives; these are some of the many benefits offered to tenants.
Lifestyle
One of the key aspects that attract people to rental properties is the sort of lifestyle that renting can afford. For those who want to live close to the city, sometimes renting can be their best bet. 
Not only can rental prices be considerably lower than the average mortgage repayment, but living close to the city can also mean substantial savings in terms of transport. If public transport is readily available, there may be no need for a car which means you'll save on petrol, parking, tolls and registration.
At Rising Tide, we're beginning to see an increase in the amount of young people choosing to buy a rental property in the area they can afford, but rather than sacrifice their lifestyle, continue to rent in their preferred area closer to the city. 
No Additional Fees
Most rental agreements will require tenants to pay an agreed upon sum at the beginning of each month, and a refundable bond at the commencement of the lease period. And that's it!
On the other hand, when you own a home, you're not only required to pay your mortgage, but you may also be responsible for a whole host of other expenses too. Homeowners pay stamp duty, council rates, body corporate fees and more. It doesn't take long for these figures to start to add up.
Unlike tenants who can rely on their landlords to cover the cost of certain necessary repairs, homeowners must front the full cost of any required maintenance themselves.
Flexible Cash Flow 
For many younger people, buying their first home can mean handing over a large chunk of their savings to go towards a deposit. By choosing to rent, you can hold on to that deposit, and even save more by renting for a lower price than you would while repaying a mortgage. 
Having a more flexible cash flow opens you up to a world of possibilities and other options to start making your money work for you. You could consider investing this surplus elsewhere and growing your liquid assets, whether it be in shares, managed funds, or Super. 
So which is right for you? Whether you're a renter looking to buy, or a homeowner wanting to explore your options, getting advice from a professional, qualified financial adviser can help you make the right decision for you own financial and lifestyle objectives.
Chris Browne is founder and MD of Rising Tide in Melbourne's CBD. He has appeared in this capacity in various media including The Project, The Today Show and can also be heard regularly on ABC radio.
Article by:
Chris Browne, Silver Adviser
Was this helpful content?
Let others know - share and vote-up