It must be noted that professionalism and an increase in professionalism has a price. When the cost to participate in a profession rises, it is fair to say that there will be pressure on those who employ the professionals to recognise that increased professionalism through wage growth. This is already indicated through the latest average salary data from Adviser Ratings, increasing from $128,000 for a financial adviser to $130,000 in 12 months, whilst wage growth is static elsewhere.
Analysis by PayScale in January 2021 reveals that the Average Base Salary for an entry-level Financial Planner in Australia is $57,770, with a range from $43,000 to $79,000. Additionally, Striver reports the average salary for graduate recruits over the past 12 months is $55,000.
Striver data also shows there was increased demand for graduates in financial planning firms in 2020, with stronger demand for advisers at the end of the year.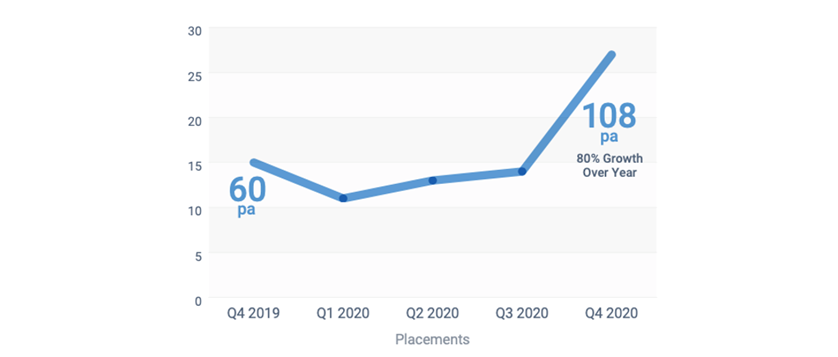 The cost to the business is not just the salary. Businesses also need to fund the costs of licensing and the Professional Year, as well as the other on-costs which are applicable to other employees. This is likely to be 1.45 times the salary of the entry-level adviser.
Of course, education is not the only driver of wage considerations, but it is noteworthy in 2021 given the wider economic environment which the financial advice profession finds itself in. Other factors may contribute to wage growth in the sector in the future including:
   - Increasing consumer demand, as Australia's aging population retires and seeks retirement financial planning advice.
   - A reduced practising financial adviser base, as they themselves retire and perhaps are not replaced by emerging talent.
The chart below already shows this acceleration in consumer demand and the relative growth of leads through Adviser Ratings and its white-label websites.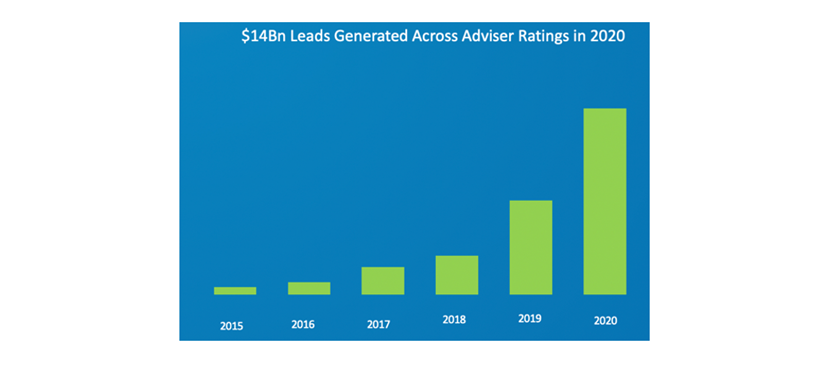 Education standards and the value of a financial planning business
When it comes to selling a financial planning business, how much will it be valued for? With increased education standards and professionalism, we see these developments positively influencing the value of a financial planning business. Certainty this will have to become a consideration for those buying and selling financial planning practices. A practice that has not met their mandated professional obligations will be a practice with a higher liability.
Outlook
As we go through this period of transformation for the industry, for those remaining or wanting to get into the industry, the professionalism combined with lower near term supply, we expect a very bright future with:
   - Higher salaries
   - Higher practice values
   - Higher consumer demand
Article by:
Alisdair Barr, Striver and Angus Woods, Adviser Ratings
Was this helpful content?
Let others know - share and vote-up