Since 2019, adviser numbers have taken a nosedive, with more than 10,000 departures in two short years. Unfortunately, Adviser Ratings has long predicted the worst is yet to come.
The convergence of professional standards, increasing PI insurance and licensee costs, and COVID-19-related pressures has prompted thousands of industry stalwarts to reconsider their career plans.
Our latest analysis indicates the profession's numbers will plateau at 12,000 in 2026. In other words, a further 5000 advisers will exit the industry before we start to see a recovery akin to the one the UK saw after the Retail Distribution Review reforms. If our grim forecast comes to life, that's a loss of more than 15,000 adviser in seven years.  
Chart 1 – Adviser numbers*



Source: ARdata. *Forecast January '23 and January '26 numbers.
Of course, in any industry or profession, there are new recruits to replenish the losses from retirees or career-changers. However, in financial advice, the pipeline of new talent is still a trickle. Last year, we saw the highest rate of new entrants since professional standards began, but there were still fewer than 250 graduates. The entry-to-exit ratio is about 1 to 20.
What could turn things around
The federal government is currently reviewing professional standards and specifically questioning whether on-the-job experience should receive greater recognition – something the Labor opposition has also shown support for.
Under one proposal, existing advisers with 10 years' experience over the past 12 years could circumvent the current degree-equivalent requirement, provided they complete a tertiary-level ethics unit.
In light of this, Adviser Ratings ran some analysis on the effect such a proposal could have on the workforce. Our figures suggest if experienced advisers were relieved of the current education requirements, more than 7000 active advisers would meet the qualifications. Meanwhile, more than 2700 who are no longer registered on the ASIC Financial Advisers Register would also meet the standard.
Chart 2 – Recognising experience: potential implications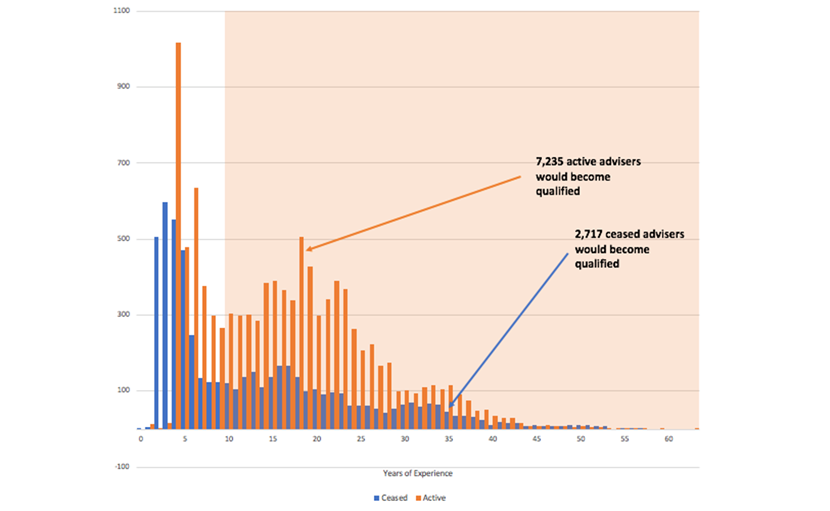 Source: ARdata. Note-The shaded area represents advisers with more than 10 years' experience. Columns denote raw numbers of advisers at each year of experience.

To be clear, we're not suggesting that changing the standards to recognise experience would lift adviser numbers by 10,000. Not all active advisers would choose to stay in the industry, while not all ceased advisers would rejoin if such a change were made. By now, many have retired, are well on the way to new careers or simply don't wish to be advisers anymore.
Nonetheless, our analysis predicts such a reform could help contribute to the downward trend in industry numbers, helping the industry avoid hitting 12,000 advisers before stabilisation occurs.
You can read more predictions and analysis in our soon-to-be-released Financial Advice Landscape Report 2022
Article by:
Adviser Ratings
Was this helpful content?
Let others know - share and vote-up