For a sometimes shy and often-misunderstood calling financial planners have seen themselves on TV recently perhaps more than they might have liked.
Yet despite all the news and Four Corners' exposes there's been precious little conveyed to the viewers about what they actually do and how it works.
But in a small but significant way that has now changed with the premier this week of a new TV show less focused on planners and more on their clients.
It's called Your Best Interests and episode 1 tells the real-life and moving story of recently divorced Helen Reynolds wanting more control of her future.
The series, produced by the Association of Financial Advisers, represents a new benchmark in sponsored programs bypassing traditional media.
Gone are heavy-handed stagey scripts with a hard sell as seen too often in this genre. In comes natural, well produced and interesting even amusing insights into the characters.
Helen is a sympathetic and likable 44-year-old wanting to make her own way in the world with her kids and a half paid-off house.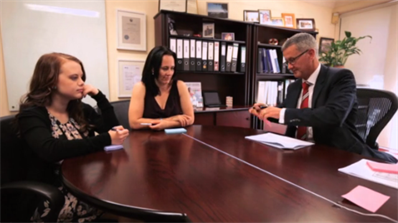 We learn of her dreams for direction, independence and a trip, if only once, to Italy for the food and shoes. She also shares her fears that due to circumstances she will realise none of them. Enter in the second act of the 27-minute long show planner Bill Bracey who for Helen and the audience demystifies the process of finding out goals and priorities.
He draws out a timeline from the present to "D-Day" (death) at a statistically predicted 90 and brings her perspective to the future within input from her plucky teenaged daughter.
AFA chief Brad Fox makes more than a cameo appearance by taking Helen to Sydney's Italian food suburb of Haberfield to meet the locals, experience the food and reflect on what she wants and how she can get here.
He explains, as the whole narrative underlines, that while there are serious elements you can and should have fun with the process. Her story continues next week and further episodes feature other personal stories of those seeking some guidance and discovering what value planners can bring.
So far it's revealed much about planning that you wouldn't realise from looking at websites especially the personal commitment and integrity of Bill and Helen's openness to see what she can achieve with the right advice. If you are or know someone who, beyond the headlines, wants to know what planners actually do Your Best Interests has started out as a great primer.
It's on digital free to air TV on Channel 4ME (Channel 74) on Tuesdays at 8pm and goes live on the website www.yourbestinterests.com.au soon afterwards.
Article by:
Christopher Zinn
Was this helpful content?
Let others know - share and vote-up