Adviser Rating Latest Data analysis indicates that the last year has seen the creation of 336 new licensee entities. During the same period, 118 licensees have been discontinued, affecting over 2,000 advisers. Of these advisers only 36% have been re-licensed meaning nearly two thirds of these advisers are yet to find a new home – or have potentially exited the industry for good. For all advisers from ceased licensees who have found new homes, 87% have gone to "privately owned" licensees that are not institutionally owned or affiliated.
Figure 1 shows the monthly numbers of new and ceased licensees over the last 13 months, to April 2019. On average, there have been 26 new licensees created per month, while an average of 9 licensees have been discontinued.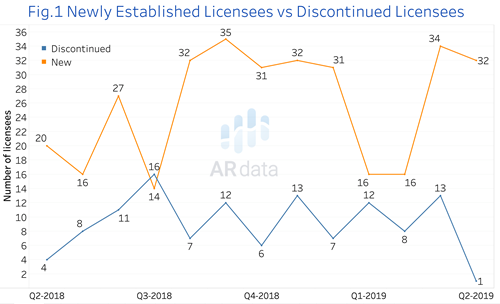 Big Chunk Turning Over
The 118 discontinued licensees represented a total of 2,172 advisers – around 10% of the total active advice community. Nearly two-thirds of these advisers are yet to be re-licensed. Of the 2,172 advisers effected, 1,392 are still not advising, inviting speculation that many of these advisers have left the industry for good. Adviser Ratings has been keeping longitudinal data on these and other adviser movements in the industry so we can analyse and better inform the industry of these movement trends. This will also enable the industry to critically evaluate the outcomes of sometimes contentious legislative and policy amendments such as FASEA educational requirements and commission withdrawals.
Our current data indicates that the median time period for an adviser to be unlicensed prior to getting back in the industry is just 37 days.
Only 36% - or 780 advisers who were licensed by now ceased licensees have found new homes.
Growth of Privates
Further analysis of this cohort of advisers indicates that the vast majority of advisers have gone to privately owned licensees. Of these advisers, nearly 9 out of 10 have joined privately owned licensees who are not owned or affilliated with the traditional large financial instututions.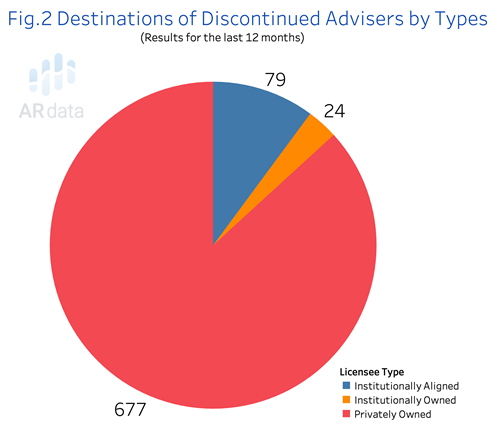 Figure 2 indicates that 677, or 87% of advisers from ceased licensees are now licensed by the privates. This and the fact there has been 336 new licensees created (none of whom are affiliated or owned by institutions) is further evidence of the further fragmentation in the financial advice landscape.
Flux Continues
There are many conclusions to draw from this information, including the flight of advisers from the industry. Another interesting inference is that this data indicates a real challenge facing the ever more vigilent regulators. Considering the new "enforcment appetite" signalled by APRA and ASIC and the extra funding received by both to ensure compliance, this continued fragmentation will only make policing of the compliance regime more challenging and resounce intensive.
Article by:
Adviser Ratings
Was this helpful content?
Let others know - share and vote-up