After receiving feedback from hundreds of advisers, we've been working long and hard over the last couple of months in order to bring you some new features to the site (with more to come). As one of 5,000+ advisers that are currently using the site, we have reached out to you first on these features.
Also, we are making it is easier NOW before our long awaited consumer campaign in the second half of 2016.
So, what are these new features - well, you will notice we have now turned on the "My Clients" tab and the "Stats and Reports" tab.
 My Clients Tab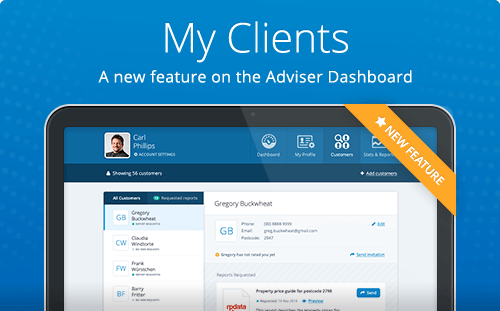 This tab allows you to manage your client list on Adviser Ratings with regard to the clients you want to contact to review you.
NB: Your client list is your personal IP, Adviser Ratings will not pass on these details or market to the individuals uploaded to our site. This feature is to help advisers easily contact and manage their clients in order to get more reviews. This result will increase an advisers ability to market themselves effectively using Adviser Ratings.
Use the "Invite clients to rate" link in the top right hand corner to add the clients you would like to ask to review you.

You can upload your clients details (first name, last name and email) either individually (entering the details and clicking on the "+" symbol), or en masse using a .csv file*.
The next stage is composing the email – enter the subject title and compose the message that you wish to convey to your clients.
On clicking "send" a standardised email will be sent to your clients with your personal message and a link to your profile, making it a one step process for them to click on and review you. You can also check out the Preview before you send.
The clients details will automatically be added to the list of clients in your "My clients" tab, for easy later reference or for re-review later on (functionality being built)
Clicking on any of the clients in the future will enable you to see their rating of you – or if they are yet to respond to your request, you can easily send them another with one click (NOTE - if you're client is not responding to your emails, it may be they are ending up in their Junk or Spam folder, so a courtesy call might be best).
*A .csv file can be created from an excel spreadsheet where the first column = first name, second column = second name and third column = email – then, when saving, save as .csv (comma separated value) file instead of an excel spreadsheet.
Stats and Reports Tab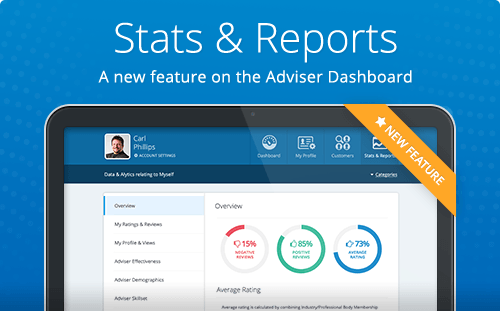 Your adviser profile "Stats and Reports" tab enables you to see several details regarding advisers across the industry in Australia, and in particular where you as an adviser are located within that landscape. The left had side of this page has a series of sub-tabs that indicate various categories, which when viewed are accompanied by a series of graphs and charts and, where applicable, leader boards that include your personal ranking. 
Currently, we are providing statistics on
Customer Ratings - Includes the number of positive and negative reviews across Australia and your ranking.
Profile Views - Shows the number of profile views for your profile, the average across the site and also average views for advisers within your licensee.
Vouched For - This tab show the leading advisers whose integrity has been vouched for by their peers and give details of the number of vouches give and received by each adviser listed.
Qualifications - Shows the highest qualification you have as listed on the ASIC registry and indicates the number of advisers with similar qualifications across Australia. 
Experience - Indicates the years of experience and total number of advisers across Australia along with where you site in this data set.
My Licensee – Has various categories that show where you sit in comparison to all other advisers within your licensee group. 
We've tried to make it as easy as possible to help you get ratings from your clients, and to vouch for other advisers. We'd love to hear if you have any feedback on our changes, or if you have any suggestions of improvements we can make on our feedback icon in your portal.
Check into the stats and reports tab regularly - this is where we will be providing relevant marketing information, consumer statistics and how you can best position yourself in the adviser marketplace to either win new customers or retain your existing customers
With the flagged changes to the ratings system, the value of reviews from your clients will have a greater weighting on your adviser rating the coming months, so now is a great time to update your profile and engage with your client base so you can make the most of you Adviser Ratings profile.
Article by:
Rodney Lester
Was this helpful content?
Let others know - share and vote-up