We're halfway through the campaign for Phase 1 of the Marketplace. Some interesting findings coming through around Life Insurance - not the least AMP Life's decimation of satisfaction levels across the board.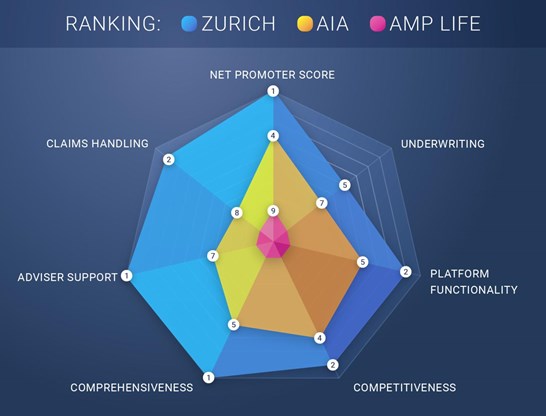 This "spiderweb" chart indicates a ranking of the satisfaction levels among advisers for the three insurers indicated. Number One being the top ranking. We can see that Zurich - represented in blue, is highly ranked by advisers across a majority of service segments. Its blue spread covers the biggest part of the "web". Conversely, AMP Life is currently ranking poorly with advisers, as shown by it's small red coverage in the centre of the web.
With AMP's decision to turn off its product to new customers in January and with the push to sell the existing book to Resolution Life Group, based on adviser feedback it seems service levels & support by AMP has dropped away. With the deal unlikely to proceed until next year, subject to appeasing the Reserve Bank of New Zealand, Megan Beer, Group Executive Insurance at AMP,  along with Sir Clive Cowdery will be keen for the transaction to occur as soon as possible in 2020.
There is a cluttering happening in the table from insurers 3-8 with advisers seemingly willing to differentiate quite easily strengths and weaknesses. Whilst AIA Australia rank from 4 to 8 across these metrics, there is a halo effect on the brand when it comes to the Vitality initiative, pushing up its NPS.
Zurich Financial Services Australia is doing resoundingly well across the board, but whilst its early days, we should soon have enough data on newcomer NEOS Life that will see it push into 1st place.
We are seeking adviser feedback on platforms, risk, research, and technology companies. Feedback is collated to become the foundation of the permanent area for you to compare the best products and services in the market for you and your clients. The marketplace will be free for advisers. Click here to have your say now.
Article by:
Adviser Ratings
Was this helpful content?
Let others know - share and vote-up