Advice CRM software is one category within the advice industry that cops a lot of flak.Here we look at the overall Net Promoter Score (NPS) of CRM software products used by advisers three quarters of the way through phase one of our Marketplace initiative – and compare them to their results from last year.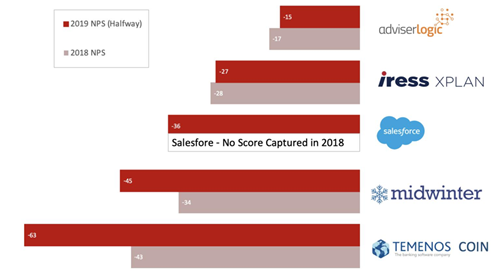 In fairness to the software providers, to be most useful, advisers need to invest as much of their own time into the software and its capabilities. Its productivity is of course also dependent on licensees' willingness to invest in the software's modules and training that it has to offer.
Conversely, given advice is a relatively niche and regulated industry, it is not an attractive space for software providers, so it means there are only a few players. As such, the established players are often perceived to be laggards who can rely on their incumbency. They tend to charge a decent fee to spread across a defined yet declining universe of users.
The qualitative commentary we've received on the different providers so far is quite polarising. 
In terms of components of feedback to date, the leaders in the respective categories are:
Adviser Support – Adviser Logic
Client Experience - Adviser Logic
Value for money - Salesforce
Comprehensiveness of modules - Iress(X-Plan)
Accuracy of Data Feeds – Iress
Functionality - Adviser Logic
We are seeking adviser feedback on platforms, risk, research, and technology companies. Feedback is collated to become the foundation of the permanent area for you to compare the best products and services in the market for you and your clients. The marketplace will be free for advisers. Click here to have your say now.
Article by:
Adviser Ratings
Was this helpful content?
Let others know - share and vote-up