Are the numbers from our "Q2 Musical Chairs Report" trends, or the result of "one offs" like Westpac's move out of licensee land and the associated move of many of these advisers to Viridian. We can reveal here that Westpac contributed only around 10% of total ceased adviser numbers for the quarter. Viridian did not even make the top 10 of licensees with most adviser additions for the quarter. The changes and trends are industry wide, rather than the result of one particular occurrence.
Our musical chairs reporting for Q2 has generated quite a bit of commentary across industry media organisations, with the headlines concentrating on the drop in total adviser numbers of 6.4% in the quarter, and over 10% since the start of the year.
The much quoted findings from our report were:
"There have been 2,825 ceased advisers in the first half of 2019, representing a decline of nearly 11% from the peak at the beginning of this year. This is consistent with the prediction of Adviser Ratings 2018 landscape report; the number of financial advisers is shrinking, with limited new entrants and a constant trend of leaving advisers. We would expect this trend to continue, particularly in the short term prior to larger numbers of new entrants, but also in the medium term. We anticipate a higher than average number of ceased advisers over the next few years as more and more advisers "bite the bullet" and call time on their advising careers leading up to 2024"
We have also written about the spike seen in ceased advisers' numbers for June. Several commentators inferred that the large numbers of ceased advisers for June 2019 was the result of Westpac/BT ceasing to provide financial advice: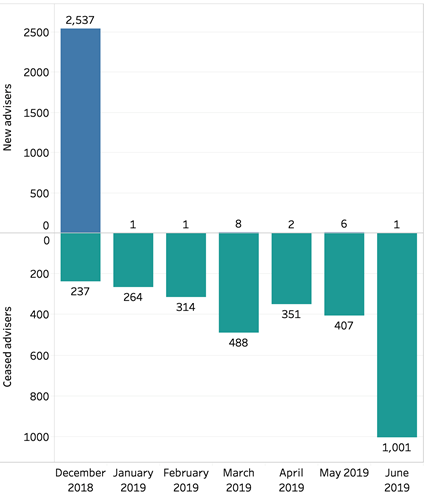 "Wouldn't the June outlier mainly be because Westpac ceased operating? Sure some found a new home but a lot of others probably haven't."
"Yes the June outlier is due to WBC / BT ceasing to provide financial advice. I expect July and August will have some of these added back as advisers find a new home
"Are the stats skewed by the Westpac move of advisers to Viridian during the quarter? Potentially a big one-off move doesn't make a trend."
It should be clear from the chart that there was an increase in ceased advisers between Q1 and Q2. People are right to question the impact of large "one off" events such as large operators shutting down and well publicised "chunks" of advisers moving between licensees (eg Westpac to Viridian) and how that might skew numbers.
Potentially a little more information may help clarify these movements.
Our second chart shows the net adviser number changes for licensees with most additions and reductions of advisers during Q2. It included both ceased and "switched out" advisers (ie those advisers who have moved from one licensee to another in Q2). We can see that Westpac had a reduction of just over 200 advisers for the whole quarter. So even if all of these Westpac advisers ceased in June, there would still be 800 other advisers ceasing in June – making it far and away the biggest month for adviser cessation this year. So Westpac movements did contribute to the spike in June – but certainly were not the only reason for the spike.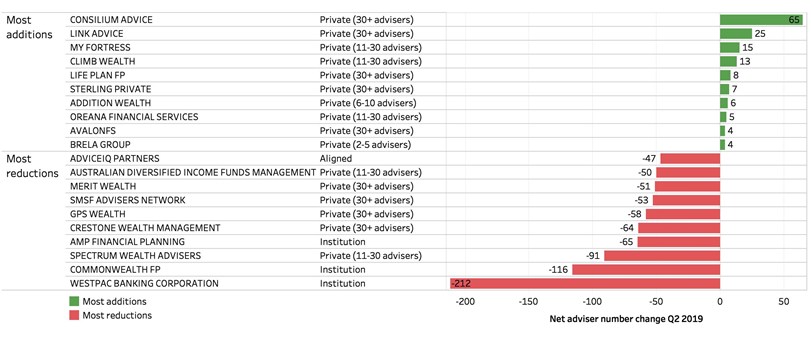 Q2 saw 201 Westpac advisers become ceased and 11 switching into new licensees. The data does in fact indicate that a large proportion of these ceased Westpac advisers were listed in the last couple of weeks of the quarter, and the fact that only 11 advisers "switched" into new licensees, indicates the change to Viridian of many advisers did not actually happen in Q2. This means the "move to Viridian" could not have "skewed" the "switching to privates" figures (because this move is not included in the switching data for Q2).
In net terms, Viridian actually decreased by 2 advisers in Q2, and as such it does not make the list of licensees with the most added advisers in Q2. In terms of the trend towards privates, we can see from our second chart, the largest licensee reductions are coming form institutional licensees, and the entire list of licensees adding the most advisers is made up of privately-owned licensees. There is certainly an established trend of advisers migrating to privately owned licensees and a potential emerging trend of an increase in adviser cessation across the board. The "Westpac numbers" contribute to these trends, but they are not the sole driving force.
Article by:
Adviser Ratings
Was this helpful content?
Let others know - share and vote-up