Adviser Ratings has announced the establishment of an external governance committee to oversee a new rating system on financial advice licensees. The need for licensee ratings has been reinforced by the findings of the Royal Commission that identified material failures of governance in licensee management and recommended greater availability of information to help consumers make informed decisions.
Adviser Ratings founder and Managing Director, Angus Woods said "The Royal Commission has made it abundantly clear that the operation and supervision of the financial advice licensee environment lacks transparency, and financial incentives embedded in the system have influenced behaviours not in consumers' best interests."
The licensee rating system is an industry-led initiative that will be launched later this year. It will support current and future legislative requirements and provide useful signals to consumers, advisers, industry and regulators in differentiating over 2,200 licensee businesses comprising 27,000 financial advisers. The final recommendations of the Royal Commission report, particularly those that ASIC have supported for implementation, will be encapsulated in the rating system. With licensee numbers growing 54% in the last four years, it's introduction will be a timely addition to the financial services ecosystem.
Figure 1 - A 54% increase in licensees in Australia in 4 years for ASIC to monitor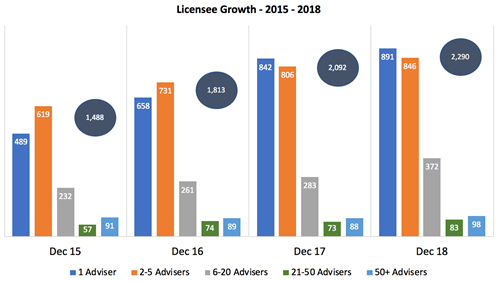 Licensee Ratings System's ERC
An External Ratings Committee (ERC) has been formed to ensure the rating system is managed according to a reputable governance regime. Reporting directly to the Board of Adviser Ratings, the ERC will be chaired by Jerry Parwada, Professor of Finance and former Head of Banking and Finance at UNSW Business School. Parwada led the development of original terms of reference for the rating system through engagement with industry, regulators and government last year. Other members comprise:
Peter Kell, former Deputy Chair of ASIC 
Paul Coughlin, former EMD and Global Analytical Head of Standard & Poor's
Janice Sengupta, former CIO Aon Asia Pacific
"The ERC is a significant milestone in the development of this new service," said Professor Jerry Parwada. "The quality of individuals that have agreed to serve on the ERC is testimony to the importance of this initiative and their commitment to building the industry into a respected profession."
"The Royal Commission advocates for increased information disclosure however the challenge for consumers is processing this deluge of information. This necessitates a carefully thought out and regularly updated summary measure of quality," said Parwada.
The ERC will be supported by an expert panel that may grow over time as evolution of the sector demands new specialist experience. The inaugural expert panel members comprise:
Dr Deen Sanders OAM, Partner Governance, Regulation and Conduct, Deloitte
Tom Reddacliff, Director and CEO Encore Advisory Group
Dr Michelle Cull, Director of Academic Program, Accounting & Financial Planning, School of Business, Western Sydney University
Complementing New Legislation
The ratings will also provide much needed intelligence for the product manufacturers under the Design and Distribution Obligations and Product Intervention Powers Bill currently before Parliament and supported by both sides of politics. It follows that manufacturers will have a greater shared responsibility with the advice channel to ensure consumers are served in their best interests.
How Licensee Rating Works
The Licensee Ratings System will apply a consistent and transparent methodology to assess if licensees are creating and nurturing a culture and operating environment that allows financial advisers to deliver high-quality professional advice in the best interests of their customers.
Adviser Ratings will apply a consistent and transparent methodology to assess licensees. This methodology will assess licensees across a range of areas critical to determining the principle objective of the rating system. This will involve both quantitative and qualitative measures. In the interests of transparency, it is anticipated that the assessment will include both an over-arching rating and component scores for each area. A key differentiator of the proposed rating methodology is that it will be backed up by a standing research capability designed to stress test the factors predicted to influence quality of advice as well as keep track of changing dynamics in the industry.
All licensees in Australia will be rated. The methodology and components of the rating system will be ultimately approved by the external ratings committee and published accordingly.
To provide some further insight into the construction of this methodology, please refer to the 2018 white paper included here.
The Need For Licensee Ratings
The royal commission revealed disturbing levels of malfeasance and institutional defects across a range of licensee's. The explosive revelations regarding AMP and the collapse of Dover being just two examples of institutional failings which further discredit the financial advice industry in the minds of the public.
Such flaws in the structural and cultural models of these institutions further blacken the already battered reputation of the advice industry and once again advisers at the coal face feel the brunt of the publish backlash. Advisers themselves have little or no ability to control or limit such deficiencies within licensee's and the repercussion of such public failings reverberate across the entire advice landscape and further discourage Australians from seeking financial advice.
Rebuilding Trust
Trust in the sector is at an all-time low; only 25% of Australians rate advisers as honest and ethical (Roy Morgan 2017). 2.4 million (13.9%) of Australians are advised, but the numbers have been in free fall for over a decade - 34% in 2005 and 2008; 20% in 2014.
It has been argued in theory that a key function of financial advisers is to convince households to trust the financial system. However, recent studies demonstrate that even indirect exposure to misconduct destroys trust and results in non-participation.
The licensee rating system proposes to help correct this loss of trust and is intended to be an important component of increased consumer participation. What makes this proposal timely and imperative are the obviously high stakes for the industry.
The very foundation of your business; the clients' willingness to access financial planning services, in on the line.
Find out more about the ratings system HERE
Article by:
Adviser Ratings
Was this helpful content?
Let others know - share and vote-up