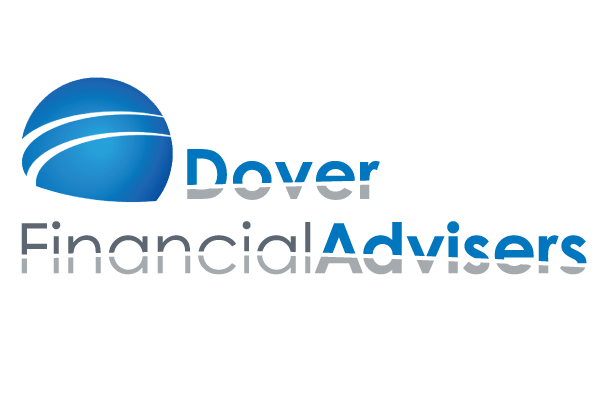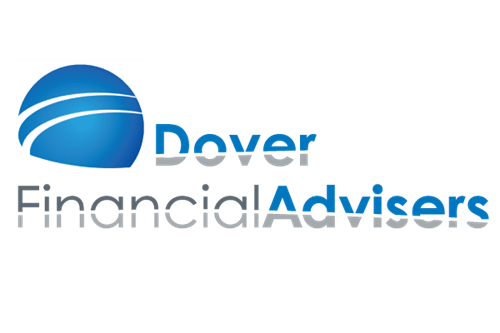 The travails of the licensee 'Dover Financial Advisers Pty Ltd" during the recent public hearings at the royal commission have sparked great interest and generated a lot of media attention – not least because its sole owner and one of its three responsible managers, Terry McMaster, collapsed while giving evidence in the dock – just as he was being accused of lying about the merit of Dover's "Client Protection Policy".
Counsel assisting the commission Mark Costello said calling the document this was "Orwellian", saying "It is entirely misleading to describe this as a client protection policy." McMaster replied "It actually wasn't intended to be misleading. It sort of evolved" and agreed it was a "misnomer" to call it that. When McMaster persisted in saying there were "other aspects of the document that were very much in favour of the client", Costello replied "I'm going to put to you that the way you have just described the policy is simply untrue" which is royal commission speak for – "I think you're lying". Shortly after this exchange, Costello noticed McMaster was in difficulty and asked for the hearing to be stopped.
Spectacle aside, Dover at the royal commission is an interesting case.
Dover Financial was the only large-scale financial advice group to decline to assist the royal commission and was the sole non-institutional licensee called to appear before the royal commission. Dover also appears to have not properly answered a notice to produce documentation from the commission, by supplying a truncated spreadsheet logging when staff reviewed statements of advice, instead of the full information. The spreadsheet contained no names.
Licensee of Last Resort?
In reporting on the client contract, the Australian said Dover Financial was sometimes unkindly dubbed the financial advice licensee of last resort. This was echoed in Fairfax media, which said "people who work in the world of planning know that Dover is too often the place advisers go when they've been let go from one of the big banks." The commission quizzed McMaster about Dover's acceptance of several advisers who were forced to leave other licensees under a cloud. Evidence was given that some prior employers, including Westpac and AMP, withheld some but not all information about these planners when Dover called to conduct reference checks. McMaster declined to comment citing legal restrictions involving his upcoming evidence. Fairfax did note however, that "McMaster has previously made strong comments criticising the regulator about banning planners and naming those planners, citing Common Law respect for the right of an individual to earn a living." This argument could be considered a principled defence of individuals rights, on the other hand, it doesn't do much to ensure the quality of advice.
Growth in Number of Advisers
In spite of any "well-known" misgivings about Dover, it has added large numbers of advisers in recent years going from 65 in 2012 to 407 today, an astonishing growth rate by any standards, making it one of the largest "non-aligned" licensee's in Australia.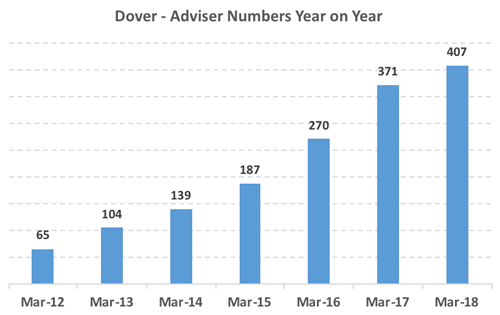 So what makes Dover attractive to advisers seeking a licensee?
Why Dover Might Be Appealing
Adviser Ratings has spoken to dozens of advisers looking to change licensee's for various reasons via our Adviser Connect service. We have consistently heard that what makes Dover attractive is a (relatively speaking) less directive and "micro-managed" administrative structure. There is a perception in the market that it's fees are transparent and economical, there are fewer or no requirements to sign-up to platform or software providers and they have an open (not limited) APL.
Production and administration of SOA's is also seen to be an advantage. Our conversations suggest that if an SOA needs to be amended, Dover's procedures, under certain circumstances allow additions or "addendums" if there is no material change to the advice, whereas other licensee's would require the entire SOA to be re-written. Advisers have often bemoaned the fact that a simple piece of advice can lead to a 30-50 page SOA, but a similar SOA at Dover could be 6-7 pages in length.
Finally, Dover have a proficient recruitment process that includes meeting with existing Dover advisers to get their take on the licensee's operational features and requirements. Adviser Ratings knows there is nothing like a strong recommendation from a satisfied client! Other licensees run what may be described as "more rigorous" recruitment processes, whereas Dover's may be called "less onerous".
The Upshot
Without judging the veracity of Dover's procedures, it would seem on the face of it that they have engaged a model that attempts to strip away some arduous administrative requirements that remain in place at other licensees, and that this appeals to advisers. We are continuously hearing adviser's complaints about the administrative and regulatory burden placed upon them.
Trying to "stream-line" procedures is all well and good, but regulations are there for a reason. Whether you like them or believe they are too onerous, the law is still the law and the authorities must be satisfied that the laws are being complied with. Dover apparently not properly producing documentation for the commission may be emblematic of the criticisms it faces from the wider industry.
The repercussions around Dover's appearance at the commission are yet to play out in full, and Terry McMaster may yet be called back to give further evidence. What should be evident so far however, is that the choice of licensee by an adviser should incorporate a wider assortment of factors than just administrative burden.
Other Considerations
Adviser Ratings spoke to Sonia Cruz, Head of Licensing at financial services specialist legal firm The Fold and asked about some of the issues that should be considered when choosing a licensee or getting your own AFSL.
Ms Cruz said that ASIC had cut 25 staff in the area last year so had less resources available to approve new licenses. This fact combined with more meticulous vetting meant that it now takes nearly 8 months for a new AFS licence to be granted.
According to Ms Cruz, ASIC were being more diligent and thorough regarding assessing licence applications. This means in some instances ASIC will ask to see audit reports from former licensees of advisers who are being nominated as responsible managers on the licence, when assessing the competency of the nominated responsible managers. As the royal commission has shown, in many instances these internal reports have been kept "in house" previously – so an adviser was able to be performance managed by their licensee. Now, if an advisers audit report is damaging, it could leave the adviser with a black mark that would disqualify them from a risk averse licensee.
Compounding the problem for advisers was the fact that in many cases, the people doing the audit may not understand the legal ramifications of an adverse finding. Sometimes a bad rating of an adviser in an audit reports has nothing to do with any legal transgressions but could be based on not meeting an unrelated internal KPI. 
In a further risk to advisers, Cruz said ASIC may form the view that the licence applicant is unlikely to comply with their licence obligations and refuse to grant the licence. This will have an implication on the prospects of certain advisers being able to obtain their own AFS licence. This could have big implications for highly regarded and respectable advisers who have done nothing wrong themselves to merit any restriction.
Conclusion
With this knowledge, advisers would be well counselled to do their own due diligence of a prospective licensee. A licensee that demonstrates a thorough and diligent screening process would diminish the risk of an adviser from within that group being found to be disreputable or corrupt. When this occurs it undoubtedly affects the licensee brand and diminishes the reputation of all associated advisers. Finding a licensee with the right cultural fit for you – one that has the same values and employs "similar" advisers -  should be just as important as any evaluation based on fees and administrative procedures.
Article by:
Adviser Ratings
Was this helpful content?
Let others know - share and vote-up