Our latest research shows the massive impact that new regulation has had on advisers joining and leaving our industry. All of the gains in adviser numbers last year have been wiped out in the first 6 months of 2019 as record numbers of adviser's cease being authorised to provide advice. In terms of raw adviser numbers, the industry grew by 10% last year and has shrunk by the same amount this year.
Accompanying chart clearly indicates the scramble to beat the Financial Adviser Standards and Ethics Authority (FASEA) education requirement deadline that applies to new advisers entering the industry from January 1 this year.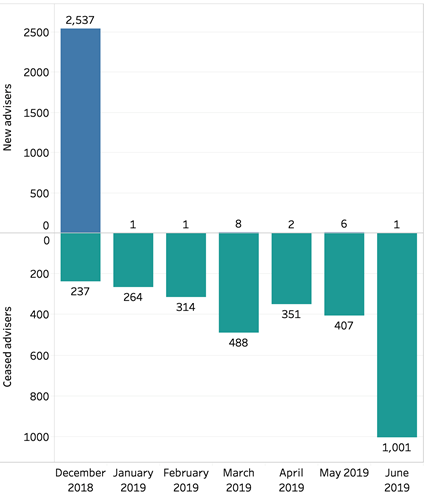 After 2,537 advisers joined the industry prior to December 31 last year in order to beat the deadline, in the time since then nearly the same amount have ceased being authorised to provide advice. The first 6 months of the year have only seen 19 advisers authorised as new advisers.
For the 2018 calendar year, we saw 8,843 new advisers joining the industry, and just over 6000 adviser authorisations (6,014) becoming ceased in the same period. This meant that there was a net increase of 2,869 advisers for the year, meaning there were about 10% more advisers at the beginning on 2019, than a year earlier at the start of 2018.
This adviser number gain has however, been effectively wiped out. The latest figures indicate that as a result of virtually no new advisers coming on board, total industry adviser numbers have dropped over 10%, decreasing by 2,825 in the last six months alone. The number of ceased advisers peaked in June with more than 1000 leaving the industry – more than double any other month this year.
The increase in cessation of advisers may be a result of the many advisers who were intent on leaving the industry having tied up their loose ends prior to the end of the financial year.
Although it will take time for any trend to be confirmed, the calls coming from sections of the industry warning of an adviser exodus due to the FASEA reforms appear at first glance to be warranted. 
For a discussion on the startlingly low numbers of new adviser authorisations so far this year, See here.
We'll keep crunching the data to bring you the latest figures and trends effecting the industry in an attempt to illuminate and makes sense of the disruption the industry is in the midst of and the instability it is causing.
Article by:
Adviser Ratings
Was this helpful content?
Let others know - share and vote-up