This week we take a look at those advisers switching licensees and returning to the industry in the first quarter of 2019. If you're thinking about switching licensee's, you might like to know that nearly half of all such advisers had the switch formally sorted within 3 days. Continuing the trend, we note as well that our most recent information indicates nearly 70% of switching advisers are going to privately owned licensees.
We previously reported that the average time "out" of the industry that an adviser takes when switching between licensee's was 37 days. This figure, while correct is actually skewed by the small number of advisers who were out of the industry for extended periods (over a year).
In actual fact, almost half (47.86%) of advisers who switch licensees have the process finalised within 3 days. This no doubt ensures continuity for their client base and allows the adviser to keep servicing their clients with minimum disruption.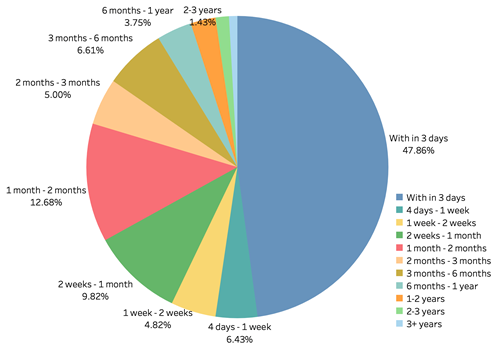 Our pie chart takes into account the 560 switching and returning advisers who have been licensed by a new licensee in the first quarter of 2019. It indicates the proportion of switching advisers and the different lengths of time they have taken from leaving one licensee to joining another. Adding the segments together, we can see that nearly 60% of advisers completed the transition within 2 weeks, and 80% were sorted within 2 months. Nearly all advisers (95%) who were re-licensed in the first quarter of 2019 were unlicensed less than a year, although there is a small tail of advisers (5%) who have re-joined the industry after more than a year out.
This data is a helpful guide to advisers to see what the norm in the industry is and is also useful for people who service the advice industry to get an idea of the generally quick turnaround most advisers make when they leave one licensee.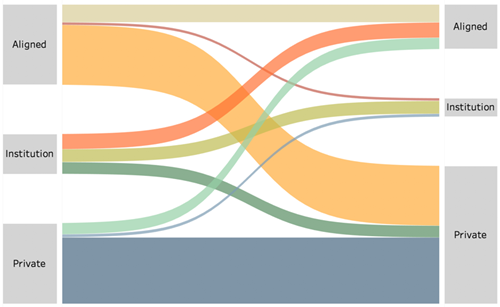 Our second chart shows the origin and destination flows of the 560 switching advisers for Quarter 1 2019. It clearly shows the gross adviser movement towards privately held licensees. The left-hand side of the chart shows that while a greater proportion of advisers were initially with institutional and aligned licensees (60%), the destination for switching advisers was overwhelmingly privately held licensees (70%).
Many of the destination licensees are self-licensed firms, but with increasing administrative burdens and PI insurance rising rapidly for many, if self-licensing is off the table, the choice of an alternative licensee for advisers who are unsatisfied with their current arrangements is less clear than ever before.
Adviser Ratings will continue to bring you more insightful analysis of adviser movements and other industry trends. For more information about our insights contact mark@adviserratings.com.au
Article by:
Adviser Ratings
Was this helpful content?
Let others know - share and vote-up