A recent report prepared by Per Capita (an independent progressive think tank) in conjunction with the Australian Services Union (ASU), lead to headlines about how our superannuation system is selling women short and claims that super is biased against women. We take a look at the issue – and we'll try to be dispassionate and not throw any petrol on the gender war fire...
The report surveyed over 4000 workers and found that on average Women's superannuation balances at retirement are 47% lower than men's. It analyses the reasons for this discrepancy and presents a list of recommendations to address the problems. The divergence in super balances mean that women are far more likely to experience poverty in retirement in their old age. The report concludes that superannuation is failing women.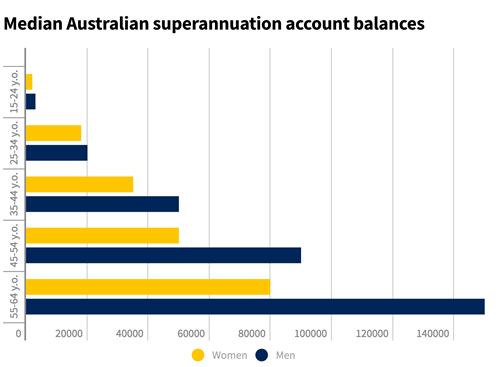 Source:  ABS Series 6523.0, Household Income and Wealth, Australia, 2013–14
Reasons for The Gap in Super Balances Between Men and Women
Type of work 
Superannuation is predicated on the fact that every worker is an employee. But the rise of non-standard work means that almost a quarter of female workers (23%) aren't in a traditional permanent employment arrangement. Instead, they are casuals, contractors, subcontractors, labour-hire workers, self-employed or on zero hours contracts. In all of these arrangements, superannuation is less likely to be paid. Women are overrepresented in the industries where these forms of precarious work are most common, with the result that the growth of these forms of work hits women's retirement incomes hardest.
The most recent data from the Australian Bureau of Statistics (ABS) indicates that women's pay rates for equivalent work are 10% lower than men's, and women's total pay across the workforce (adjusted for fewer hours worked) is 31% lower
Time out of the workforce
Amongst the survey respondents, over 55% of women had experienced periods out of the workforce in order to care for family members. By contrast, less than 12% of men had taken time off for similar reasons.
Not only do far more women take periods out of work to care, but they are away from the workforce for far longer when they do. Two-thirds of men who take time out are away from work for less than one year, but only one-fifth of women take so little time away. Almost 45% of men are away from work for fewer than three months. By contrast, over a quarter of women are out of the workforce for more than six years. This has a dramatic effect on these women's capacity to contribute to their superannuation accounts. 
The gender pay gap
Because most people's superannuation balances are almost entirely determined by their compulsory contributions based on a percentage of their salary, the superannuation gap is, largely, the result of the gender pay gap.
The gender pay gap takes multiple forms: women are paid less than men for doing the same work; women are less likely to be in high level (and therefore highly paid) positions than men in many industries and occupations; and women are more likely to work part-time than men.
Many more women are part-time workers, including both casual and permanent part-time than men and, as discussed above, more women take time out from working and take longer breaks from employment than men. These factors combine with lower rates of pay and the overrepresentation of women in lower paying jobs to explain a large proportion of the superannuation gender gap.
Poor understanding of the Superannuation System
The report found no evidence that women's understanding of our super system is worse than men's: the system changes so often that it is impossible for any lay person to keep up with all the details. However, women did attest that they lack basic understanding of the retirement income system and are sorely in need of education and advice. The women in the survey said that they realise they can't rely on others, but they don't know where to go for assistance and advice. As a result, there is an overwhelming demand for better financial literacy education for women, at all stages of the lifecycle.
Is Super biased against women?
The headline – "Super is biased against women" is certain to attract a lot of attention in our societies current milieu which highlights rights issues like the gender pay gap.
But as Noel Whittakar pointed out in his newspaper column:
"superannuation is nothing more than a structure that lets people build assets in a low-tax environment. Obviously, people in low-paid jobs or irregular jobs will not end up with as much superannuation as people in higher paid jobs, who contribute more."
It's that simple really.
The compulsory superannuation system was predicated on making an ageing population self-secure in retirement and ease the reliance on the government paid pension. But the system in failing low-income workers. Changes in the way we work (eg. increasing casualisation and non-standard work) account for some of this systemic failure. There are now more low income earners and the current structure of super not doing what it was designed to do for these people. It also happens that in our society, women make up a higher proportion of low income workers than men for the reasons discussed above.
Although the structure of the superannuation system itself has not kept pace with changes in our work structures, the other problem rests with the undeniable fact that women get paid less than men (the gender pay gap). 
So it is the case that our Super System is biased against women?
Well yes, but that is a function of (as far as remuneration goes) – our society being biased against women. You might as well ask is being paid for work biased against women – the facts bare it out, the answer is yes.
Many do not want to admit it, but this is a result of our society valuing (in monetary terms – for reasons that are manifold) women's contributions less than men's. Taking time off work to care for family members is a role dis-proportionally filled by women. This role is actually of paramount importance in anyones life – but society dictates it receives little monetary recompense.
If we look at the bigger picture that sees compulsory superannuation as just one part of our societies "remuneration mix" - from the start, it did not take into account unpaid working roles that are dominated by women. These types of roles, unfortunately fall into the "intangible" category, and aren't priced appropriately by our remuneration market. In societal terms, this is a monumental market failure. 
To fix this, we need to recognise two things and respond appropriately:
The gender pay gap exists and needs to be closed.
Unpaid work that is beneficial to families (and society as a whole) needs to be further recognised by our social systems and added to current, or embedded into any future remuneration and market structures (such as for example – compulsory superannuation)
Article by:
Rodney Lester
Was this helpful content?
Let others know - share and vote-up