The top 5 influencers in financial advice in order of votes received are as follows: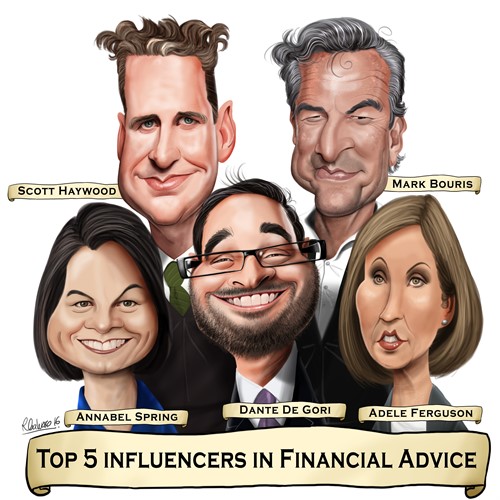 #1 Scott Haywood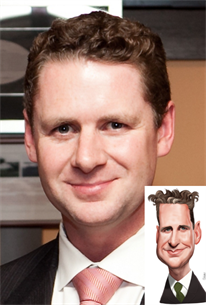 Scott Haywood, aka the Finance Guru appears daily on Fairfax Radio in Melbourne. In this role he often tackles some curly questions from his host, but offers sensible, down to earth advice that is communicated clearly and jargon free - aimed at everyday Australians. A CFP since 2000, Haywood won the Rainmaker Financial Planner of the year in 2011 in the marketing category. In addition to being a 15 year member of The Australian Financial Review Business Leaders' Panel, in 2010 Haywood was appointed to the MLC advisory board. Aside from his regular radio gig, he has also appeared on Channel 9 and Channel 10, sharing his expertise to a wide audience and is an especially prominent figure in the financial social media landscape. When asked how he saw the role of the adviser changing over the next 10 years, Haywood said "with increased barriers to entry and higher education requirements the financial advice industry will create more specialised advisers in specialist areas". Through his appearances on radio and in print, Haywood has had much contact with Australians who are perhaps not traditionally seen as candidates for financial advice and regularly offers his services in a pro-bono capacity.
#2 Dante De Gori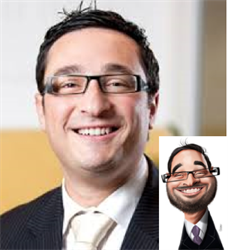 Dante De Gori will be taking the helm at the Financial Planning Association (FPA) from March 2016, when current CEO Mark Rantall steps down to concentrate on other positions. Since joining the FPA in 2010, Dante has participated in more than 12 Government Committees and Consultation Groups, led the formulation of FPA policy on over 50 submissions to Government and ASIC, and been instrumental in the FPA's consultation with Treasury on the FoFA reforms. Prior to joining the FPA, Dante provided technical and legislative support to financial planners and advisers at ClearView Financial Management, Zurich Financial Services and Asteron. Degori says his main passions in life are his four Fs - Family, Food, Football and Financial Planning, so he should be able to have a great conversation and connect with just about anybody!
#3 Adele Ferguson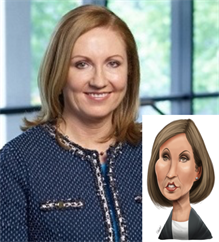 The 2014 Gold Walkley winner, Ferguson continues to expose inadequacies and cultural / compliance issues within the financial planning industry across all licensee groups. We have already seen CBA, ANZ, NAB, Macquarie and IOOF hauled over coals, and millions paid out in compensation. Much of this exposure has led to considerable investment by the industry being pumped into improving compliance, qualifications and training. After graduating from Adelaide University with a bachelor of economics and arts degree, Ferguson started her career in journalism at The Advertiser. She has also worked at BRW magazine as deputy editor and chief business commentator, leading many major investigations into the corporate sector and was a senior columnist at The Australian.
Ferguson has won three Walkley awards including the Gold Walkley for her Four Corners program Banking Bad, seven Quill Awards and six Kennedy awards including the Gold Kennedy Award. Ferguson carries a reputation as one of Australia's most respected and well-read commentators and investigative reporters. Determined to seek the truth and uncover wrong doings she rightly notes that "for every one journalist there are probably about a dozen PR people who are trying to hide the truth". Her research and exposure of financial advice scandals also helped to uncover the failure of corporate regulator ASIC to deal adequately with issues including responding to various whistle blowers from the industry. Put simply, without Fergusons tenacious efforts, much malfeasance in the finance world would go unnoticed.
#4 Annabel Spring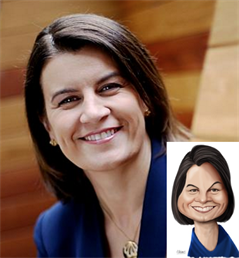 Annabel Spring is the group executive of wealth management at the CBA and has worked widely in mergers and acquisitions, corporate and leveraged finance in Australia, New York and Asia. She studied law and economics at Sydney University, has a MBA from Harvard Business School where she graduated as a George F. Baker Scholar. Before joining the CBA Group, Annabel was Managing Director and Global Head of Firm Strategy and Execution at Morgan Stanley. Described by colleagues as 'driven, smart and ambitious' she's been listed as one of the women most likely to next head one of the Big Four banks. Annabel joined the CBA Group in March 2009 as Group Head of Strategy where she was responsible for corporate strategy, mergers and acquisitions, cross-business strategic initiatives, and government relations.
In April 2011, she also added responsibility for communications. She faced the heat when an ASIC probe lead to the banning of seven financial advisers for misconduct in 2011, at a time she had only just inherited the Wealth Division. She's overseen substantial change within CBA during her tenure. She is responsible for Colonial First State, Colonial First State Global Asset Management, Wealth Management Advice and CommInsure, and is a member of the Group Executive Committee. Annabel is a member of the Advisory Board for the Salvation Army Australian Eastern Territories, a Director of the Financial Services Council (FSC) and a Co-Chair of the FSC's Superannuation Board Committee. She is also a member of Chief Executive Women.
#5 Mark Bouris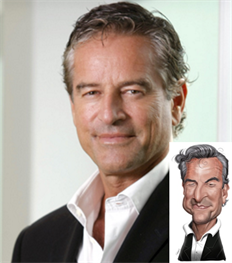 As a young professional, Mark Bouris started out working on large structured finance deals for the oil and gas industry and also property development in his 20's. A passionate entrepreneur, he has established a successful career from building disruptive businesses. Bouris rose to prominence after founding Wizard Home Loans in 1996. Wizard was sold to GE Money, less than a decade later for $500 million, cementing Bouris's reputation as a leader in the finance industry. He went on to found Yellow Brick Road Wealth Management, which offers full service wealth management products and services including loans, financial planning, insurance, accounting and tax services. As Executive Chairman of YBR, Bouris oversees a rapidly expanding branch network and is keen to benefit from embracing disruptive technology including much vaunted robo-advice services. A savvy user of media, Bouris has a high profile courtesy of his television shows and appearances, as well as newspaper columns and regular speaking engagements. Bouris is also Adjunct Professor for Banking & Finance and Business Law & Tax at University of New South Wales Australian School of Business and a board member of the Sydney Roosters NRL club. Earlier this year he was appointed a Member of the Order of Australia for his services to the finance industry, education and to charitable organisations.
by Adviser Ratings Editorial Team
Article by:
Adviser Ratings
Was this helpful content?
Let others know - share and vote-up