Behind the ongoing saga of adviser departures is the plight of their clients. A few years ago it was not uncommon for advisers to have client lists of over 500, although the very size of those client books meant that many were not well-serviced and some not at all. This contributed to the fee-for-no service (FFNS) debacle uncovered through the Royal Commission and subsequent regulation around removal of grandfathering, introduction of annual opt-ins and best interest duty (BID).
Today, advisers are streamlining their client books for financial survival while others leaving the industry are invariably contributing to a growing pool of client "orphans".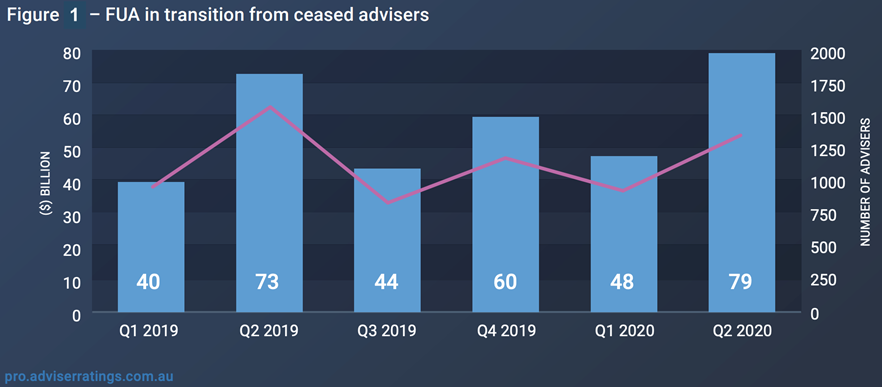 Our first figure highlights the potential advised wealth that is in transition from the advisers that have left the industry over the last 18 months. This special feature looks more closely at this orphaning trend amongst advisers remaining in the industry.
Drivers To Streamline
It is too simple to say that financial pressures are causing this orphaning trend. There is no question that rising costs to stay in business are translating to higher fees for clients. While maintaining profitability is absolutely the central motivation for many advisers, the underlying reasons depend on the nature of the advice business itself and are often a combination of those listed below. They include:

Value justification - Due to client circumstances, advisers are not adding value so can't justify continuing to charge the same fees.
Flat fees - Switching from commissions to flat fees creates a sticker shock that clients can't accommodate.
Capacity - Increased regulatory burdens (from ASIC and/or licensee) takes time away from facing customers and limits capacity to handle client volumes.
Risk - Some clients represent unacceptable risks due to their needs and the extra regulatory / compliance hurdles potentially imposed by the licensee.
Business focus - Slimming the business to focus on specific areas or taking time off to deal with mental health demands a smaller, more targeted client base.
Client mix - Taking a proactive approach to reaching a better mix of profitable clients by jettisoning legacy and chasing new.
Demographics - Adviser departures force replacement of experienced advisers with younger, inexperienced ones. This creates tension with clients and requires strategies to deal with.
Types of Clients Orphaned
The types of clients that are being orphaned are consistent with the drivers described earlier. They are typically lower value in terms of funds under advice (FUA), although for lower FUA clients it may still be possible to justify the fees if the client is highly active or has dynamic, changing circumstances.
Orphans also tend to be older clients that have gone through the full advice journey and neither side sees value in continuing. Equally, legacy clients that don't fit the current (narrowed) business focus of the advice firm, or legacy clients in grandfathered commission-based products where the commission-to-fee discussion and the work to switch under BID is not economically feasible.
Orphaning "Benevolently"
Smart businesses are "benevolently transitioning" their clients away from full service. This involves finding a range of potential solutions, from remaining a (scaled-back) client to simply remaining in touch, while ensuring that clients are not entirely abandoned if at all possible. These include:
- Treatment of clients on a transactional basis for major or complex one-off events and remaining in touch through newsletters or other ongoing communication. Of course, there is no guarantee that clients will return to the same adviser for an occasion that may be many years in the future.
- Directing clients to their super fund for "full service" under the intra-fund advice provisions.
- Introductions to digital advice solutions, although this alternative may not be suitable for every orphan who has previously relied upon a face-to-face relationship. This also provides the opportunity to incubate at arms-length and return the client to a full-service relationship once they grow into the adviser's sweet spot.
Digital Partnering
The digital investment cohort is probably the most ubiquitous of the robo tool sector, although cashflow / budgeting robos like MoneySoft and MyProsperity are more advanced in partnering with advice and accounting firms. Some investment robos are aggressively pivoting away from B2C to also focus on partnering with face-to-face advice businesses to provide B2B2C services to consumers. This solution may be appropriate for transitioning orphans, as well as helping to build funnels to attract new clients at the start of their investing / advice journey, including the offspring of HNW clients or deceased estates.

Our second figure has examples of digital tools for B2B2C servicing of clients and showcases three investing robos (Clover, Nucleus Wealth, and SixPark) that are generating traction with advice firms to help in a range of circumstances.
While they take different approaches, some key fundamentals for success include:
- Getting the right fit. Ensuring advisers are genuinely aligned to this new approach.
- Being in control. Generally, businesses that have their own license and are the right size to execute.
- Tech savvy. With these robos offering white-label solutions, it is important that the advice business has sufficient tech capability to engage and execute.
- Retail focus / higher client numbers. Having a sufficient number of low-value retail clients making the transition effort economically viable for both adviser and robo.
Meanwhile, the more comprehensive advice robos like MapMyPlan, and new ones being imported from offshore, present even greater opportunities to partner with advice businesses to handle simple client needs this low-cost way, while concentrating the adviser's skills and talents on complex cases.
While these tech providers may not be a suitable solution for every orphaned client, advisers would do well to investigate opportunities in this space in order to ascertain the potential benefits on offer for both themselves and their clients.
Article by:
Adviser Ratings
Was this helpful content?
Let others know - share and vote-up