Following the launch on our website of the interactive, consumer portal – the DIY Personal Finance Centre, and in bringing a new level of information accessibility to consumers across Australia, we have developed an expanded Ask an Adviser section.
We are seeking interested advisers to participate in this process – and it is up to you how little you commit, for example if you want to answer one question per month, say 15-30 mins of your time, or one question in 6 months, it's up to you!
The benefits to advisers willing to engage in the process are manifold:
Ask an Adviser questions appear in our consumer newsletters and are permanently displayed and searchable on our website.
All Ask an Adviser responses published appear with links direct to your profile page and company website if applicable.
Exponentially increases your presence and visibility on the site at a cost of nothing more than a small amount of your time.
Allows you to showcase your talent and skill to prospective clients
Increases your visibility via google resulting from Adviser Ratings expert engagement
Engaged advisers are seen as industry experts, thought leaders and promoters of open and transparent advice.
Advisers able to leverage and cross promote their presence and exposure on Adviser Ratings in their own marketing promotions.
Answers may also be used in our social media and marketing promotions, with attributions to you and where appropriate, your business.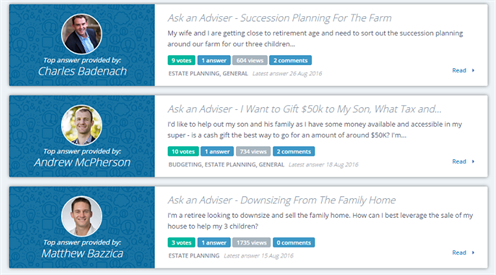 Ask an Adviser answers as displayed on our website
As part of our expanded engagement with consumers, Adviser Ratings has recently engaged a PR agency to amplify our brand awareness. We have also commenced an advertising campaign on Sydney commercial radio, with a view to rolling it out nationally and are actively engaged in all social media channels, and search engine optimisation and marketing on Google (both paid and unpaid).
This initial foray into consumer promotion and the launch of our new consumer space has seen the number of clients contacting advisers directly though our website peak, nearly tripling the average number of enquiries prior to the launch. We expect this growth to continue.
Additionally, we currently send out a consumer newsletter - the Adviser Insider, every week. This has a subscription reach of approx. 25,000+ not including additional shares and is growing every week. We have had over 1.5 million page views since we launched and we expect this number to increase dramatically.
What we are asking of you:
Would you be willing to provide a brief answer (300-500 words) to a consumer question that we will forward to you.
The questions are usually of a general nature and only require general answers – much like the Ask an Adviser section we have regularly included in our consumer newsletter and publish on our site.
In feedback from participating advisers, this generally takes them about 15-30 mins to answer a question (obviously it depends on the question).
As an adviser, if you are interested in participating in this process, please email us at the link below with the subject line headed "Interest in Ask an Adviser"
Email: admin@adviserratings.com.au
Article by:
Adviser Ratings
Was this helpful content?
Let others know - share and vote-up