January is synonymous with sunshine, family, and stretched waistlines. It's also typically when we do some serious business planning. But how structured is your approach to this, and does that thinking translate into a practical, executable business plan? Is that plan to support your long-term commitment to the industry, or dressing your business up for sale?
Our latest survey of more than 500 practice owners is producing some interesting perspectives on this subject. Firstly, almost half the businesses have annual revenue of less than $500,000. These are typically single adviser practices, with the large majority (> 80%) authorised by a third party licensee. Experience from the last two years, in an environment seriously challenged by fallout from the Royal Commission (2019) and COVID-19 (2020), suggests that many small businesses with these parameters are struggling. Further, where principals are looking to exit, there is limited interest in purchasing the business as a going concern.
According to Figure 1, the larger practices (> $500,000 p.a) are better positioned from a business planning perspective, although for more than half (53%) their plans are not up-to-date. This is worse for the practices sub-$500k with only 28% having a current plan, and almost one in five (18%) not having a plan at all. In this rapidly changing industry, that is a dangerous position to be in. 
Figure 1: Advice Practice Owner Business Plans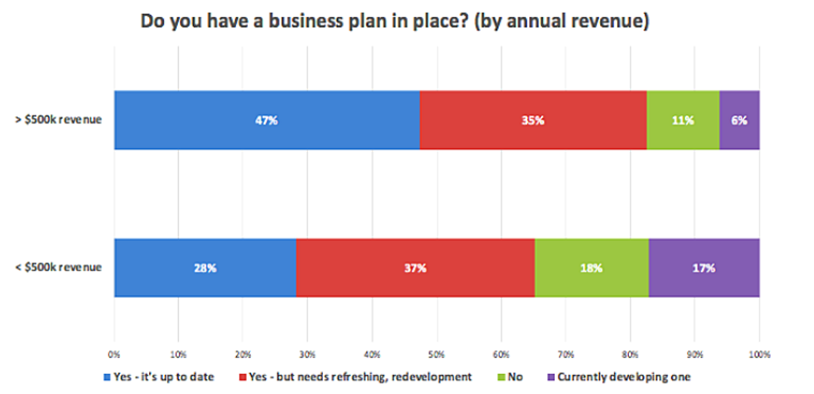 Source: Adviser Ratings Practice Survey (n=420)
So what are practice owners focused on in 2021? From Figure 2 we can see that the primary objectives are to improve operational effectiveness in order to lower cost of delivery and tighten compliance, while also pursuing growth.
Operational effectiveness is being achieved through a range of measures including:
Tighter definition around business processes and workflow
Investment in technology and digital solutions to match the business workflows, and for improved controls and automation
A sharper focus on the type of business desired and ensuring new customers fit that service model
Figure 2: Planned Business Changes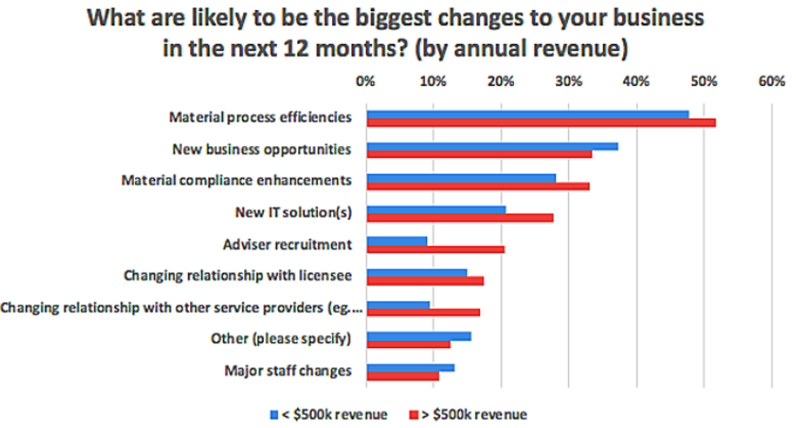 Source: Adviser Ratings Practice Survey (n=420)
Interestingly, 15-18% of practice owners are looking to change their licensee relationship, which suggests continued high adviser switching rates in 2021. For the larger practices, almost 18% are also looking to change relationships with other third-party groups like financial product manufacturers, platforms and technology firms. These wholesale changes are often best executed through finding a new licensee than trying to convince their current licensee to perform major surgery on approved product lists and preferred supplier arrangements.
Standing still in this industry is not a recipe for success. In other words, don't be waiting for your Steven Bradbury moment.  If you want to get on the front foot with your business planning and access more intelligence like this, please have your say at www.adviserratings.com.au/yoursay by January 29th for your chance to win from the $30,000 prize pool.
Article by:
Adviser Ratings
Was this helpful content?
Let others know - share and vote-up