The future of regulation and professional standards is set for a bit of a shakeup, with FASEA scheduled for dissolution and ASIC's powers to be extended. What this will mean for advisers remains to be seen, as the details of who manages what are ironed out.
Late last month, a bill was put to parliament in response to the Hayne Royal Commission's recommendation for a single disciplinary body for financial advisers. It proposed ASIC's Financial Services and Credit Panel be expanded to police advisers, even those with less serious misconduct. It also put forward stronger penalties for Corporations Act breaches, beyond banning an adviser.
"While sanctions are available to ASIC, the lack of less serious sanctions means that ASIC generally only focuses on the most serious incidents," Minister for Homelessness, Social and Community Housing Michael Sukkar said when introducing the bill.
 In response, CPA Australia has expressed concerns ASIC could be "swamped" with minor matters that wouldn't materially affect client outcomes.
In further streamlining efforts, FASEA's current functions are set to be divided between Treasury and ASIC, with Treasury to oversee standards and ASIC to administer the exam.
The Government says it will pave the way for more affordable, quality advice, as it cuts the number of bodies involved in the oversight and regulation of advisers.
Role confusion
While the wind up of FASEA has been largely welcomed by industry associations, the proposed reforms have prompted questions about who will be responsible for setting and enforcing professional standards and CPD.
The Financial Services Council said "new spread of responsibilities between licensees and advisers should be clarified over time" in a submission to the inquiry, while CPA Australia sought more information about who would monitor standards.
"While we note that the standard setting powers will sit with the Minister, it is not clear who will perform the work of maintaining the existing FASEA standards and Code of Ethics, ensuring they remain current and fit for purpose, and developing any new standards that may be set by the Minister," Dr Gary Pflugrath, CPA executive general manager said in a submission to the Senate Economics Committee.
Meanwhile, the SMSF Association called for an "urgent review" of the CPD framework and guidelines, especially around the technical components.
The Financial Planning Association said the move to a single disciplinary body opens a new opportunity for advisers to keep a record of their own CPD completion, which they would submit to ASIC each year.
The FPA also suggested FASEA pass on important documents to the new responsible minister or ASIC, including practice exams, information regarding a remark and examinee responses to questions (but not the questions themselves).
Exam relief
As the baton is about to be passed from FASEA to Treasury and ASIC, a series of concessions have now been made for those who have not successfully made it through the exam.
The Minister for Financial Services Jane Hume gave advisers extra time to pass the hurdle if they've had two failed attempts. Those who have taken the exam twice before January 2022 have until the end of September next year to pass.  
The exam authority also relaxed the three-month rule, which prevented advisers from re-taking the exam shortly after failing.
"This amendment will allow all candidates who have been unsuccessful at any prior sitting to sit the November exam, which will be offered via Remote Proctoring and at exam venues, subject to COVID protocols," FASEA said in a written statement.
Recent data from FASEA shows 74 per cent of advisers on the Financial Adviser Register have sat the exam and passed.
However, Adviser Ratings' analysis indicates a passed exam does not necessarily signal an adviser's intention to continue practising. We found one in five advisers who departed the industry last quarter had sat and passed the exam. For more, see Adviser Ratings Q2, 2021 Musical Chairs Report.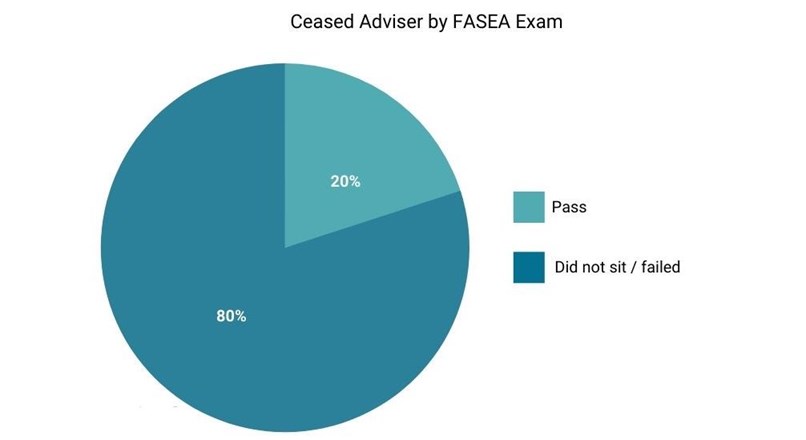 Source: AR Data.
Article by:
Adviser Ratings
Was this helpful content?
Let others know - share and vote-up